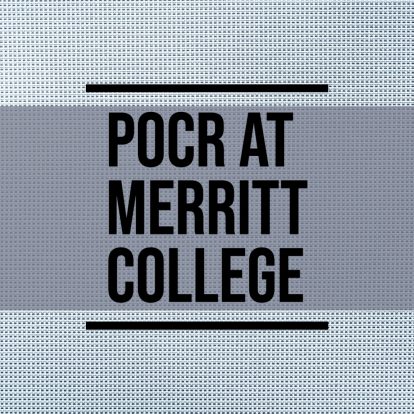 Welcome to POCR at Merritt College! Our team is currently restructuring for the 2022/2023 school year, and we are excited to have you join our team. If you are curious about our Peer Online Course Review process, or you want to learn more about our DE team and the 'how's and why's' of  alignment, please visit the tabs in the left-hand column to learn more.
If you are interested in aligning to POCR, first make sure your course meets the basic requirements:
You have taught the course online, in Canvas, for at least one full term
The course is completely online
The course is part of an ADT (Associate Degree for Transfer), General Education Transfer Pattern (CSU or IGETC), or CTE (Career Technical Education) 

Use the Assist tool to check if your class is part of the GE transfer pattern

You are following AP-4105 requirements
Next, connect with our campus POCR lead Monica Ambalal to share your interest in aligning your course to POCR to be part of the CVC exchange: mambalal@peralta.edu
If you are still unsure or concerned about the process, please consider the following incentives of adding your course to the CVC exchange: 
If you have completed the Online Equity Training or you have aligned to the Peralta Online Equity Rubric, you are easily on your way to submitting a POCR aligned course because the rigorous standards of our world-famous equity rubric compliment the POCR rubric
If you are concerned about class cancellations due to low enrollment, note that teaching your class in the CVC exchange means that it is open to any student in the CSU, CCC, or UC system
We are currently working with Merritt College Guided Pathways and Peralta Professional Development committees to ensure that compensation will be provided for faculty aligning and reviewing courses
The basic practices of POCR support state and local equity initiatives such as the Cultural Humility Toolkit, and the goals of CCC DEIA (Diversity, Equity, Inclusion, and Accessibility). 
"Being POCR aligned takes work, but once you complete the process, you will be badged and ready for high-caliber delivery of instruction!" (Anon. participant of OET)