LGBTQ+ Campus Support
Merritt College thrives to become a more inclusive environment which welcomes and supports the intersectionality of all of our students. The resources on this page are to greatly improve the school climate for (LGBTQIA) lesbian, gay, bisexual, transgender, queer, intersex, and asexual students. 
Merritt College Gay Straight Alliance (GSA) Student Club
The GSA Student Club is to support LGBTQIA students by creating safe spaces for students to meet and socialize in a harassment-free environment. GSA will work in conjunction with the college to educate and inform the campus community regarding how to better support students in need of support.  For more information, contact Merritt College's GSA Advisor, Nickolas Garner at ngarner@peralta.edu .
Merritt College Wellness Center
To learn more about Merritt College and Peralta Community Colleges Health and Wellness Services for students visit:
Merritt College's Wellness Center
(https://www.merritt.edu/health/)
and
Peralta's Health Services
(https://www.peralta.edu/health-services/)
For Mental Health Counseling and Support, please visit:
(https://www.merritt.edu/health/mental-health-services/)
The Merritt Wellness Center is OPEN in R-106 Fall and Spring Semester Hours:
Mondays:       11:00 am – 5:00 pm
Tuesdays:         8:30 am – 3:00 pm
Wednesdays:   8:30 am – 3:00 pm
Thursdays:     12:00 pm – 7:00 pm
A recurring Peralta-wide LGBTQ+ support group for students meets every 2nd and 4th Tuesdays from 12-1 PM online.  If you are interested in joining, please fill out the form below: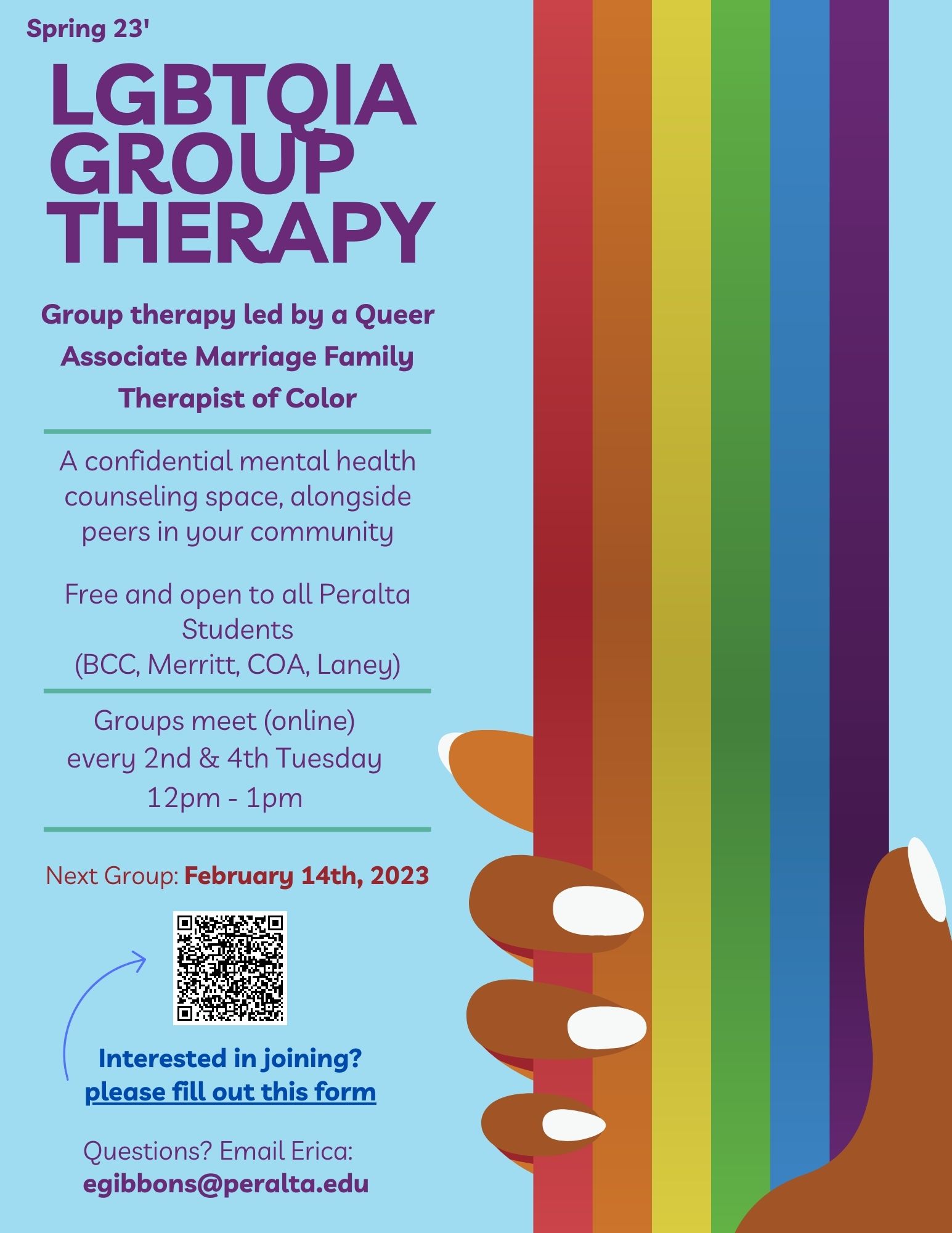 Community Resource Centers
Many offer support groups and/or therapy, or can refer you to these resources and many others.
Health, Health Care & Substance Use Services
General Mental Health Support
Suicide & Emotional Crisis
Mental Health & Emergency Psychiatric Services
Call 911 if you are experiencing a life-threatening emergency.
Sexual Violence, Partner Abuse & Domestic Violence
Legal, Crime & Other Resources
Alameda County LGBTQ+ Resources
For additional resources, visit the Alameda County LGBTQ+ Resources website at visit https://www.smcgov.org/lgbtq/alameda-county-lgbtq-resources .