Get Green Done in 2021
Organisms. Ecosystems. People.

Your career in the environment starts here.
The Natural History & Sustainability (NHS) Program emphasizes the critical thinking and problem-solving skills needed to tackle the major environmental challenges of the 21st century. The interdepartmental program offers career- and transfer-driven coursework in three tracks: (1) Natural History and Resources; (2) Conservation and Resource Management; and (3) Urban Agroecology. It is ideal for students interested in the basic science of the natural world and its effect on human society, and provides training for the following jobs: Park ranger, naturalist, field technician, urban farmer, food production analyst, water quality technician, environmental consultant, interpretive aide, environmental educator.

How do you get started? It's easy–Merritt is a community college, so all you have to do is fill out an application and then sign up for a class. If you decide you want to pursue of our Certificates of Achievement, there is more detail on these programs above.
Want More Information?
Interested in a career in the environmental field? Read our new FAQ to see if you're a good fit for our program: NHS Interest FAQ. Or you can reach out and schedule a meeting with our program director Ben Nelson here: bnelson@peralta.edu.
Fall Semester Update
Due to the continued COVID-19 pandemic, courses in the Fall semester will either take place online or be hybrid courses with some outdoors or indoors (with PPE) in person meetings. For a list of NHS Fall classes, click here.
There are still a number of late start courses: ENROLL HERE
NHS Logo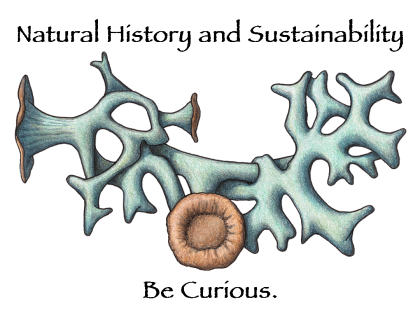 Why a lichen (a combination of fungi and algae) for our logo? Read more about why we chose the mottled tube lichen, Hypogymnia inactiva, to represent our program. Fun fact: The lichen in our logo was drawn by Merritt student Mary Ann King in Prof. Sheila Metcalf-Tobin's "Botanical Drawing" class.