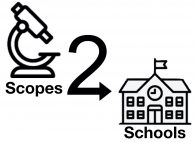 Scope 2 Schools (formally the Merritt College Microscopy Outreach Program) is run by Merritt Biosciences Department through funds from the Strong Workforce Program.
The mission of Scope 2 Schools (S2S) is educate students in microscopy through the training of high school science teachers and to increase access to quality microscopes in San Francisco Bay Area schools.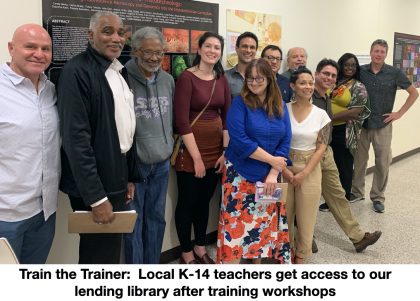 S2S uses a "Train the Trainer" model and offers training sessions to high school teachers at our faculties at Merritt Community College in Oakland. Teachers learn optical, fluorescence and dissection microscopy in our day-long seminars and when completed, they have access to our microscope classroom loan program.
Our pilot program began on October 25, 2018 with participation of Oakland area high school science teachers. Those that completed the training were offered stipends and access to our microscope equipment lending program.  We met our goals of building a STEM consortium these Oakland area educators and we conducted follow-up surveys to improve our program and learn about their educational goals. Information gathered will allow us to build stronger partnerships and address their needs more effectively.
This slideshow requires JavaScript.