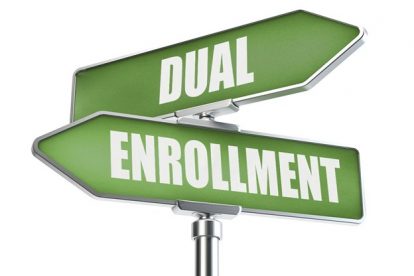 High School Students1
High School Students and Parents/Guardians
Thank you for your interest in or Dual Enrollment program here at Merritt College. We hope you will take advantage of this opportunity to get started on your college and career pathway before you graduate from high school.
What is Dual Enrollment (DE)?
Merritt Colleges Dual Enrollment Program offers high school students an early start on their career technical education and opportunities to earn units toward their college degree. We partner with high schools in the Bay Area to promote educational equity by offering empowering, transformative educational experiences to local high school students
The purpose of the Dual Enrollment program is to promote and increase access to postsecondary educational opportunities for high school students while increasing high school graduation rates, preparing a skilled workforce, and decreasing time and cost to postsecondary degree completion
Students take postsecondary coursework for credit towards both high school graduation requirements and postsecondary certificates, diploma or associate degree requirements
College and Career Access Pathway (CCAP) – AB 288 (College and Career Access Pathways) partnership allow community colleges to partner with high school districts to offer courses that aligns with college pathways and/or career fields. High school students enrolled in CCAP courses are permitted to take up to 15 units without financial obligations
Dual Enrollment vs. Concurrent Enrollment
The terms we use in higher education can be a little confusing. There are two main ways that High School students can take college courses while still in High School, Dual Enrollment and Concurrent Enrollment. Both enrollment options allow High School students to take classes at Merritt College, but they differ in the following ways:
Dual Enrollment

Concurrent Enrollment

Students from Oakland Unified School District (OUSD) and from other districts or school sites with MOUs are considered Dual Enrolled students

Concurrent Enrollment is when a high school student takes a community college course at his or her own discretion on the Merritt College campus or online

Courses are taken with a cohort/class group and are usually held on their school campus (when face to face

instruction is in session). Open to the students from the school

Open to any high school student who wants to take courses at the college level. Courses are taken at Merritt College, virtually or face to face.

OUSD students taking Dual Enrollment courses at their high school must complete the 

High School Dual

 

Enrollment form

 and obtain their

parent's and HS counselor's signature on the form

Students must complete the 

High

 

School Special Enrollment form

, include the course information (name and code), and obtain their parent and HS counselor's signature on the form

Other students from non-OUSD schools must complete the 

High School

 

Special Enrollment form

, include the course information (name and code), and obtain their parent and HS

counselor's signature on the form

A High School Special Enrollment form must be submitted for every semester the student wishes to enroll for a course with Merritt College

Tuition of $46 is not charged to the high school student.

Tuition of $46 is not charged to the high school student.

Students can enroll in up to 15 units without any fees

Course option is limited. Students cannot enroll for remedial level (250

and above not allowed) or hobby courses

Students are provided textbooks and course materials by their High School

Students are required to pay for textbooks and some fees.
OUSD Dual Enrollment Process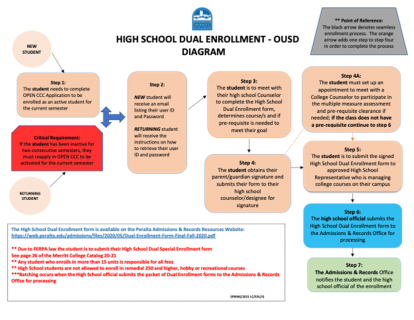 Benefits of Dual Enrollment
Why should you participate in Dual Enrollment Courses?
Merritt College's Dual Enrollment program allows you to enroll in college courses while you are still in high school- for free!
Get a TASTE of COLLEGE or COLLEGE READY

Dual Enrollment helps prepare students for the transition to college after they graduate

Dual Enrollment can provide a more rigorous classroom environment for students

Save TIME

Dual Enrollment can provide students with a more flexible schedule

Save MONEY

Dual Enrollment courses are free to High School Students (unit limits applies-See "Unit Limit" section)

Get AHEAD

Get ahead on college credits by taking Dual Enrollment courses while in High School
Enter college with college courses already completed
High school students who complete dual-enrollment classes generally need to take fewer classes in college

EXPLORE Career Areas

A variety of course are offered through dual enrollment
College courses can give student's a closer look at their area of academic interest
Taking a college class as a high school senior can help students find their area of interest before the pressure is on to declare a major when applying to college
Many courses can be applied towards a certificate program

Looks GREAT on college applications

Most dual enrollment courses are CSU and/or UC TRANSFERABLE
Give your High School GPA a BOOST–UC/CSU Transferable courses will provide you with 1 grade point boost to your High School GPA (check with your high school for their specific policy)
What are the Benefits of Dual Enrollment for Historically Underrepresented High School Students?
Dual enrollment participants, including those who have been traditionally underrepresented in college, often do as well or better than their non-dual enrollment peers in the following areas:
High school graduation rates
High school Grade Point Average
High school retention and on-time graduation
Assessment into college-level courses
Proficiency on state assessments
College grades and credit accrual
Community college enrollment and retention and persistence rates
Participating High Schools
Oakland Unified School District

Castlemont High School
Fremont High School
Oakland High School
Oakland Technical High School
Skyline High School
Met West

Leadership Public Schools
Aspire
AIMS
Life Academy
Unity Charter High School
Oakland Military Academy
Oakland International High School
Hayward Unified School District
Pinole Valley High School
Alternatives in Action
California High School-San Ramon
East Bay Innovation Academy
Sojourner Truth High School
Millennium High School
Berkeley High School
Alameda High School
ELIGIBILITY
What are the requirements for eligibility in dual enrollment courses at Merritt College?
High School Permission

Participating high schools determine the readiness of their students

Prospective students are encouraged to discuss their interest to

 

their high school to learn more about their requirements for dual

 

enrollment courses

There is no minimum grade point average to take dual enrollment

 

courses, except for those courses in math and English

Parent Permission

Students under the age of 18 must have consent from their parent(s) or legal guardian to enroll in dual enrollment courses
Students that will be 18 at the time of registration do not need to complete

Pre-Requisites

Students must follow all the regulations and policies of Merritt College
High School students must meet any pre-requisites for the dual enrollment course they plan to take
Getting Started-Steps for Dual Enrollment
STEP 1 – Talk to your High School Counselor:
Talk to your high school guidance counselor to choose a course that will help you reach your educational and professional goals
STEP 2 – Apply to Merritt College with the Peralta Application Process through CCCApply:
Complete the Peralta Admissions Application
Based on your status, you will receive the following confirmations:
Confirming creation of your OpenCCC account. This will only be sent if you are creating a new account. (within 30 min)

Confirming completion of your application. This email will contain your seven-digit application confirmation number. (within 30 min)
Confirming that your application has been successfully processed by the Peralta Colleges. This email will contain your new Peralta student ID, or if you are a returning student, information on how to obtain your previous ID. (within 48 hours)
Once the application is completed please print or write down the confirmation number of the application
It may take
Students who have previously attended a PCCD college and are returning after missing a semester or more must also submit a new application on CCCApply.
STEP 3 – Complete High School Special Enrollment Form:
BOTH YOU AND YOUR PARENT/GUARDIAN MUST SIGN THE FORM
Submit the completed and signed High School Special Enrollment form to your high school counselor to obtain their signature and discuss your selection.
You must fill out a separate High School Special Enrollment form 

for each semester you wish to take a dual enrollment course
STEP 4 –Student Campus Solutions Page Activation
Click the "Forgot User ID/Password: Students -> Please Click here" link and select "I don't know my User ID".
Enter your email address and birthdate that was used in your original application in the pop-up window and press "Submit"

Use the User ID and Password you are given in the log-in box. 

Please email reset@peralta.edu if you are unable to log into the Student Campus Solutions System.
Click the "Student Center" link.
High School students are only allowed to drop classes and view personal information online in their Student Campus Solutions Page.
Your High School will submit your High School Special Enrollment form to Merritt College, and you will then be enrolled in the approved Dual Enrollment class.
High School Students cannot enroll themselves in classes. Only staff from Merritt College 

Admissions & Records Office can enroll a student in a Merritt College Dual Enrollment course
STEP 5 –HELP
Some students may have special circumstances which will prevent them from applying to Merritt College or retrieving their login credentials. Students can reach out to the Merritt College Welcome Center live link for additional enrollment support along with the following resources:
STUDENT RESOURCES
Dropping Courses
Transferring College Credit
Many dual enrollment courses will transfer to universities within the University of California (UC) and California State (CSU) systems.
Visit ASSIST ( www.assist.org ) to learn more about which Merritt College courses transfers to other California colleges and universities
Advisory: 

It is the student's responsibility to contact their prospective postsecondary institution to learn their dual enrollment credit transfer polices; especially those outside of the state of California since dual enrollment transfer policies and the transferability of courses vary from institution to institution.
Campus Resources Links
Welcome Center – Have a question about Merritt College? https://cccconfer.zoom.us/j/97053281460
Parent Resoruces2
PARENT/GUARDIAN RESORUCES
Things to Know about Dual Enrollment (Rules and Regulations)
PARENTS AND LEGAL GUARDIANS
Your consent for your High School student to take a dual enrollment course also serves as an acknowledgement of the following:
Your child will be enrolling in college-level course(s), in which the grade(s) received will be a part of the student's permanent college record.
Students participating in Dual enrollment must make satisfactory academic progress (minimum cumulative GPA of 2.0 and completion of 67% of courses attempted) to maintain eligibility for financial aid when they begin college as a post-graduate student (after high school graduation)
Your child is capable of handling the rigor of college-level work and the responsibilities of being a college student.
Your child may be in a classroom setting with non-high school students.
In accordance to Education Code (EC) 49061, students under the age of 18 that enrolled in a college course must grant permission to release education records to parents and legal guardians
UNIT LIMITS
For concurrent enrollment students and non- College and Career Access Pathways (CCAP) dual enrollment students, the summer max is 9 units. During fall and spring it is 11 units
For College and Career Access Pathways dual enrollment student the limit in fall/spring is 15 units and for the summer it is 9 units
For CCAP dual enrollment courses–students can only enroll in the courses listed in the College and Career Access Pathways agreement
TUITION AND FEES
High school students are excused from paying tuition and fees for up to 15 units of approved coursework per semester
TRANSCRIPTS
Students enrolled in dual enrollment courses at Merritt College will have courses and grades listed on their Peralta Colleges transcript
All courses you take from the college will appear on your permanent college transcript
You may also receive high school credit for these courses. Be sure to check in with your high school counselor to ask about that
RESTRICTIONS
Dual Enrollment does not replace courses that are offered at your high school
You may not take recreational courses under the Dual Enrollment program
Cost
Dual enrollment students can enroll in up to 11 units without any financial obligation. If a student enrolls in 12 units, the student will be financially responsible for the 1 unit difference.
Advisory: High school students who are participating in both dual enrollment and concurrent enrollment will need to be aware of the number of units they are enrolling in each semester. Both programs limit high school students to 11 units collectively.
Undocumented and Non-Resident Students
Undocumented students are considered "non-resident students" for tuition purposes. Non-resident concurrently enrolled high school student (this includes both dual and concurrent enrollment) enrollment fees are waved in accordance to Assembly Bill 2364.
Federal Financial Aid Advisory
Although high school students are not eligible to use federal financial aid while in high school for college courses, their participating in dual enrollment course begins their college record and subsequently can impact their federal financial aid eligibility when they decide to start college. According to the U.S Department of Education, all students using federal financial aid must maintain satisfactory academic progress, which involves maintaining a grade point average above a 2.0 and a pace of completing 67% of units completed.
Performing poorly and/or not completing course have far reaching consequences for high school students taking college courses and can adversely impact their financial aid eligibility when they start college. High school students must maintain a 2.0 grade point average and maintain a pace of completing 67% of the college courses they attempt to remain in good standing with the U.S. Department of Education.
Textbooks
High schools will provide the textbook(s) for your dual enrollment course(s). Students are not required to purchase textbooks or any course related material for dual enrollment course(s).
Student Privacy – California Education Code Section 49061
Education code 49061 affords dual enrollment students certain rights with respect to their privacy and their education record. All Dual enrollment students must give consent to share information between Merritt College and their high school, as well as, to discuss their education records and progress with parent(s) and legal guardian(s) regardless of age.
Dual enrollment students must act on their own behalf. Parents, guardians, high school administrators, and or other individuals close to the student are not allowed to enroll, drop, and add classes on the behalf of the student regardless of the circumstance.
Dual Enrollment Courses are Open to the General Public
All dual enrollment courses, for the exception of that, are CCAP, are open to the general public. Therefore, Merritt College students may enroll in classes at participating high schools.
How to Address Concerns regarding your Instructor
If you have an issue with your instructor, you will need to discuss your concern with the instructor first. If your issue is not resolved in the initial meeting with your instructor, you can escalate your concern to the division chair for the discipline of your courses. You can find the contact information for division chairs on each disciplines' department webpage.
As a friendly reminder, as a college student, you will need to address your concerns independently. Unless given consent, parents, legal guardians, other family members cannot address concerns on your behalf.
High School Admin3
HIGH SCHOOL ADMINISTRATORS
PARTICIPATING HIGH SCHOOLS/CURRENT MOU's
Oakland Unified School District

Castlemont High School
Fremont High School
Oakland High School
Oakland Technical High School
Skyline High School

Leadership Public Schools-Oakland
Aspire
AIMS-American Indian Model High School
Life Academy
Unity Charter High School
Oakland Military Academy
Oakland International High School
Hayward Unified School District
East Bay Innovation Academy
Lighthouse
Alameda Unified School District

Albany Unified School District
Berkeley Unified School District
Emery Unified School district
Piedmont Unified School District
HOW TO REQUEST A DUAL ENROLLMENT COURSE
Merritt Dual Enrollment School/Agency Intake FORM https://forms.office.com/r/AAsydExViV
Merritt College Dual Enrollment "Next Steps" GUIDE
Link to Peralta Special High School Special Enrollment FORM https://www.merritt.edu/admissions/dualenrollment/
Merritt College Dual Enrollment Student Registration List TEMPLATE https://peralta4- my.sharepoint.com/:x:/g/personal/sdelatorre_peralta_edu/Ec0N- DhrIUREsXRz-Kc9RZ4BwgsJAbhyrRpReSvkDUJIfA?e=D0SzrQ
Campus Resources for High School Students
HIGH SCHOOL ADMINISTRATOR RESOURCES
MERRITT DUAL ENROLLMENT CONTACT LIST
ENROLLMENT SERVICES
DIVISION DEAN AND DEPARTMENTS
LIBERAL ARTS AND SOCIAL SCIENCES
Dean: Dr. Chriss Foster: cfoster@peralta.edu  D217, (510) 436-2609
Staff Assistant: Denise Woodward, dwoodward@peralta.edu D216, (510) 436-2425
Art (ART) (100200-230)
Athletics/Kinesiology

Dept. Chair: Inga Marciulionis, imarciulionis@peralta.edu, F205, (510) 434-3849

Athletics (ATHL) (696000)
Kinesiology (KIN) (083500, 127000)
Health Education (HLTED) (083700)

English/Humanities

Dept. Co- Chairs: Evan Nichols, anichols@peralta.edu  & Todd Johnson, tjohnson@peralta.edu  F212, (510) 436-2657

English (ENGL) (150100)
ESL (ESL) (493080)
Humanities (HUMAN) (159900)
Philosophy (PHIL) (150900)
Spanish (SPAN) (110500)

Ethnic Studies

Dept. Chair: Jason Seals, jeseals@peralta.edu, A203, (510) 434-3935

African American Studies (AFRAM) (220301)
Mexican/Latin- American Studies (M/LAT) (220304)
Asian American Studies (ASAME) (220212)
Native American Studies (NATAM) (220213)

Merritt College @Fruitvale- 2325 E.12

th

 Street, Oakland, CA 94601
Coordinator/Outreach: Brenda Mora, bmora@peralta.edu (510) 536-1830
Human Development

Education Technology
Learning Resources

Library

Social Sciences

Dept. Chair: Anthony Powell, apowell@peralta.edu, P-308 (510)434-3923

Anthropology (ANTHR) (220200)
Political Science (POSCI) (220700)
Psychology (PSYCH) (200100)
Sociology (SOC) (220800)
History (HIST) (220500)

Counseling
MATH, SCIENCE AND TECHNOLOGY
Dean: Jason Holloway: jholloway@peralta.edu  S441, (510) 436-2426
Staff Assistant: Sinead Anderson, sganderson@peralta.edu  S438, (510) 436-2409
Biology/Chemistry

Landscape Horticulture
Math/Physical Sciences

Dept. Chairs: Sun Young Ban, syban@peralta.edu & Rebecca Uhlman, ruhlman@peralta.edu   S-320, (510) 436-2748

Astronomy (ASTR) (191100)
Geography (GEOG) (220600)
Geology (GEOL) (191400)
Math (MATH) (170100)
Physical Sciences (PHYSC) (190100)
Physics (PHYS) (190200)

Natural History & Sustainability
Business

Dept. Chair: Fereshteh Mofidi, femofidi@peralta.edu  (925) 247-4240

Business (BUS) (050600-650)
Economics (ECON) (220400)
Real Estate (RLEST) (051100)

Technology

Courtney Brown courtneybrown@peralta.edu , P-206A, (510) 434-3986

Computer Science (CS) (070100)
Computer Information Systems (CIS) (070200)
Cybersecurity
ALLIED HEALTH AND PUBLIC SAFETY
Dean: Marie Amboy, S440, (510) 436-2515, mamboy@peralta.edu
Staff Assistant: Nancy Moreno, (510) 436- 2513, nmoreno@peralta.edu