Charge of the Professional Development Committee PDC

Plan, develop, coordinate, review and evaluate all of the professional development activities that take place at the College

Responsible for planning Flex Day activities for scheduled District wide days as well as campus on-going professional development activities

Establish priorities and procedures and make advisory recommendations in each of the following areas: collaborative/special projects, institutional subscriptions and memberships, Individual travel and conferences, tuition reimbursement, and unique staff development needs of counselors and librarians

Supervise the Sabbatical Leave Process for faculty: conduct workshops, evaluate and approve applications with recommendations to the College President and the Chancellor

Oversee the Retraining Leave Process for faculty

Issue twice yearly report to the College Community and the District Officer of Professional Development: on expenditures, funding priorities, procedures, deadlines, activities, schedules of meetings, attainment of goals, needs assessments, etc.
See committee By-Laws document and PFT contract Article 25
Click here for updates for courses and opportunities to fulfill the AP4105 requirements for teaching online
PROFESSIONAL DEVELOPMENT ACTIVITIES

Students: Please include your full name and Peralta ID#
Part I of CORA (Center for Organizational Responsibility and Advancement) trainings. "Implicit Bias Training" replay in collaboration with Laney College PDC and District SDO.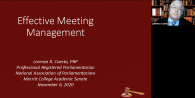 Effective meeting management online training
November 18, 2020
Click here for video recording

Spring 2020 Flex Day
January 16, 2020

Spring 2019 Flex Day
January 18, 2019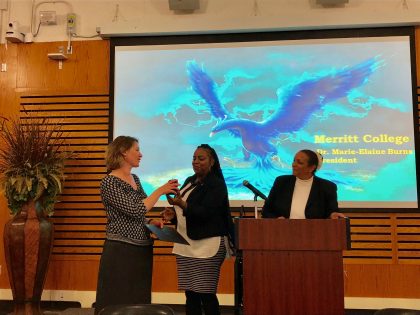 Mid-Semester 2018 Flex Day
March 22, 2018
Click here for summary and photos


Spring 2018 Flex Day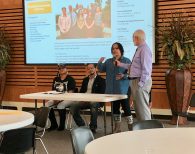 January 18, 2018
"Learning from Within"
Click here for photos
Click here for summary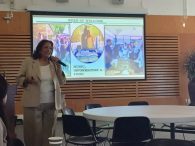 Second Fall Flex Day Program
October 26, 2017
Yoga, Teamwork, and Lots of
Important Information
Click here for summary and photos

First Fall 2017 Flex Day
August 18, 2017
"Sustaining Work and Life Balance Self-Care"