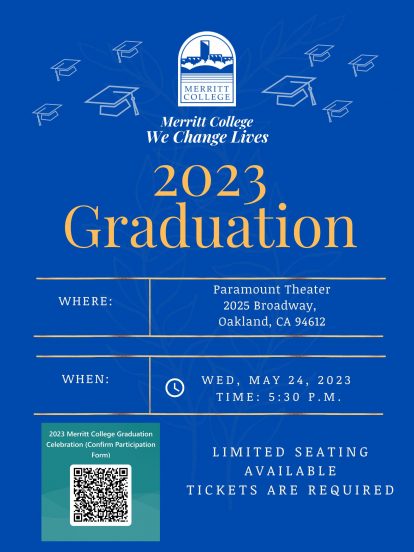 Congratulations 2023 Graduates!
Click HERE to view the Commencement Program
Click HERE to view Merritt College's 2023 Commencement Ceremony
QUESTIONS?
Visit https://www.merritt.edu/graduation/ for graduation updates. For questions and concerns, please email Michelle Mai (mmai@peralta.edu) or Doris Hankins (dhankins@peralta.edu).
Previous Commencements
Congratulations Graduates!
Virtual Commencement – Thursday, May 26 at 6pm (PST)

Click Here for Virtual Commencement 2022, May 26, 2022, at 6 PM
Click Here for Program for for the In-Person Graduation Celebration and the Virtual Commencement.
The Merritt College Commencement Committee is thrilled to be planning two events in honor of your academic achievement.
Virtual Commencement – Thursday, May 26 at 6pm (PST)
Merritt College's Commencement 2022 will be hosted live, virtually (on Peralta Community College District's YouTube page) Thursday, May 26th.
Merritt's In-Person Graduation Celebration – Wednesday, May 25th, 2022, at 1:00 pm.
You don't want to miss the festivities. There will be music, food, pictures, and giveaways for our EOPS, CARE, CalWorks, and Next UP programs.
All graduates are encouraged to wear their caps and gowns. Graduates are welcome to bring two guests. Links to RSVP for the event will be sent to graduates who petitioned to graduate.
For questions regarding commencement, please email
mc-studentactivities@peralta.edu.
For Commencement Program  Scan QR Code or Click on the following link: Here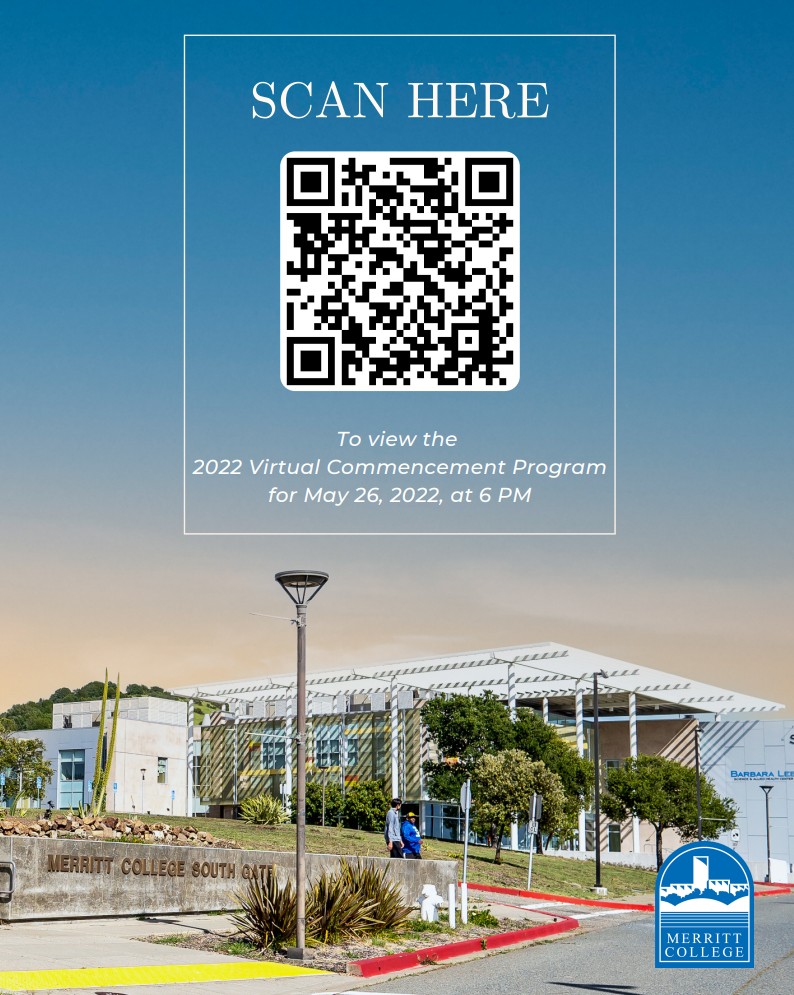 Join Us for Merritt College's 66th Virtual Commencement
use #MERRITTGRAD2022, when posting on their social media (Facebook, Instagram, Twitter) pages.

https://spark.adobe.com/page-embed.js
Join Us for Merritt College's 66th Virtual Commencement, May 28, 2021, at 1:00 PM (via Live Stream).
The Graduation Committee and the Office of Student Activities are happy to share the virtual commencement link for our 66th Commencement Ceremony. To view the Premiered Ceremony (via YouTube), go to bit.ly/MerrittGrad21
If you are interested in applying at Merritt College, Click here for instructions:
https://www.merritt.edu/steps/

Join Us for Merritt College's 65th Annual
&
1st Virtual Commencement Ceremony Relaunch
Saturday, May 23, 2020, at 11:00 AM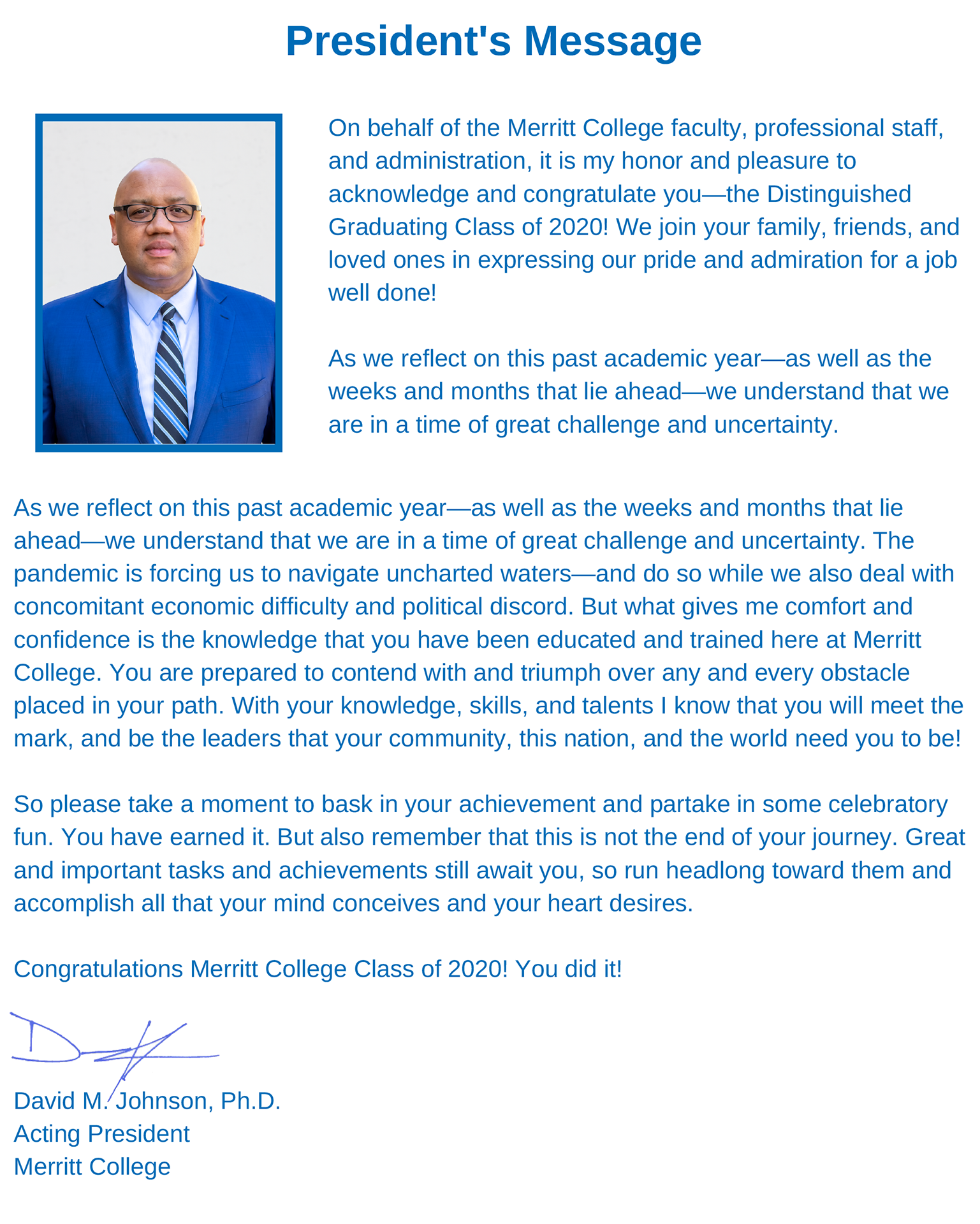 To purchase your regalia please click here

For more Information, please email Bookstore Manager, Rickey Pozos, at rpozos@follett.com or text (510)948-1466.
__________________________________________________________________________
Important Message from the Director of Student Activities and Campus Life
President's Message from the Commencement Committee
__________________________________________________________________________
Class of 2019
Merritt 2019 Commencement Newsletter(4.3.19)
__________________________________________________________________________
Class of 2018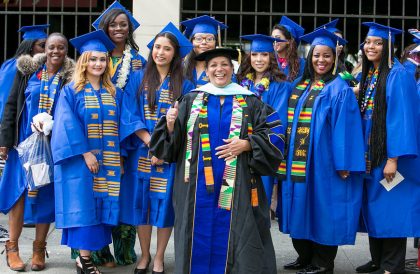 It was a beautiful sunny day outside of Oakland's Paramount Theater on May 23, 2018 as hundreds of smiling students excitedly lined up outside of the Paramount Theater.
The afternoon quickly unfolded as the soon-to-be graduates picked up their cards and enjoyed snacks from the Commencement Committee volunteers, made final adjustments to their caps and gowns, and posed with proud friends and family; faculty, staff, and administrators, and Merritt College President Marie-Elaine Burns who gave them the thumbs up before they marched into the beautiful building to reach their goal.
Check out the photos from the beginning preparations outside to lining up and marching in, to the meaningful and dynamic words of Speaker Dr. Dennis Kimbro and Valedictorian Alessandra Chimienti to the handing out of the diplomas by President Burns, administrators, and faculty.
Another year and another group of successful students who will move on to careers or continued education and make Merritt College proud!
Below see 2018 Commencement Newsletters:
Profiles of Valedictorians, Salutatorian, and President's Medallion Winner in Newsletter #2
 All Info and Instructions in Commencement Newsletter #1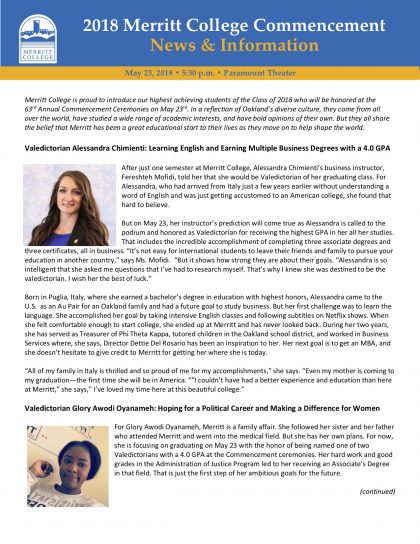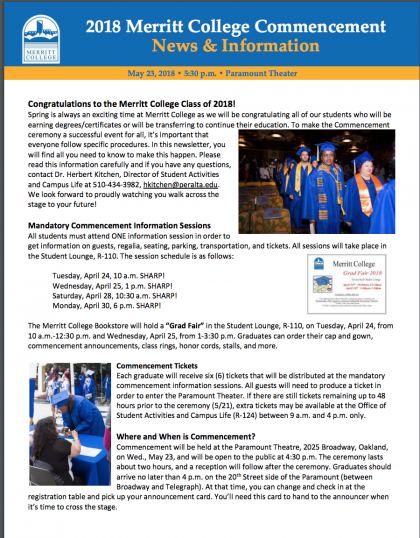 ________________________________________________________________________________
Class of 2017 
Moving In, Moving Through, Moving On:
Congratulations to Class of 2017
With the theme, "Moving In, Moving Through, Moving On," Merritt College celebrated its 62nd Commencement Ceremony on Wednesday, May 24. Out of a total of more than 900 students who received associate degrees or certificates or who will be transferring on to further their education, more than 350 participated in the ceremony. Honored during the ceremony were two Valedictorians and the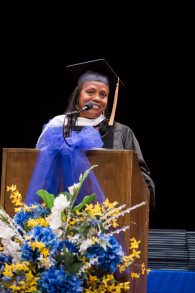 Salutatorian, all introduced by Vice President of Instruction Dr. Jeffrey Lamb.
Valedictorian Asmita Neupane came to Merritt from her home country of Nepal. She achieved a 4.0 in her studies and received an Associate's Degree in Health Sciences with her dream goal of becoming a nurse. She is currently getting experience by volunteering at San Leandro Hospital.
Valedictorian Anya Elizabeth Edwards (not present) majored in Administration of Justice and graduated with an Associate in Science for Transfer Degree with a 4.0 GPA. She will be transferring to Cal State East Bay and in the future plans to work in the law enforcement field.
Salutatorian Berenice Diaz Estrada (left) was born and raised in Oakland and graduated from Oakland High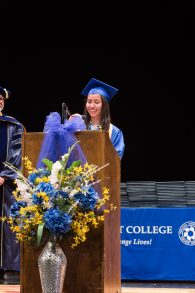 School. She came to Merritt because of the excellent reputation of the Radiologic Science Program and is hoping to start the program soon. In the meantime, she has earned Associate Degrees in both Health Sciences and Natural Sciences and a Certificate in Teacher Assistant. She graduated with a 3.96 GPA.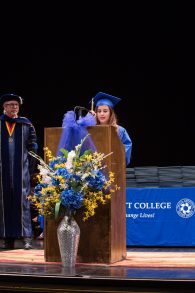 Commencement Speaker Dr. Siri Brown, a passionate and committed educator at Merritt who is currently serving as Interim Dean of Liberal Arts and Social Sciences, gave a truly inspirational speech honoring the graduates for their successes no matter how long it took, how many challenges they had to face, or how many people may have discouraged them.
For the first time, Merritt's newly appointed president, Dr. Marie-Elaine Burns, presided over the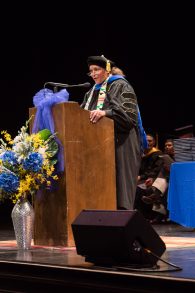 ceremony.
"It is an honor to have participated in this year's Commencement ceremony and be surrounded by all of the students who worked so hard to get to this point," says President Burns. "Whether they are getting associate degrees, certificates, or transferring, we are proudly looking forward to watching them achieve success beyond college and demonstrating how much Merritt College has changed their lives."
.