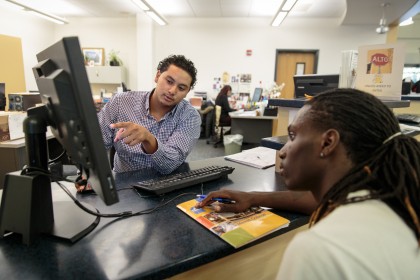 Steps to Enroll at Merritt College (in English and Spanish)
The State of California requires that all students who plan to attend a community college follow a series of entrance steps to help you successfully graduate from college. These steps consist of:
Filling out an application
Attending an orientation
Completing an assessment
Meeting with a counselor to interpret scores and choose your first semester classes.
Click on the links to learn what you need to do in each step to enroll for classes.
Once you start classes, you need to follow-up with a counselor as many times as necessary to resolve problems, learn about resources, ask questions, and create/ update your Student Educational Plan (SEP).
---
El Estado de California requiere que todo estudiante que desee asistir a un community college siga ciertos pasos para asegurar que pueda graduarse exitosamente del college. Estos pasos se llaman "Matriculation Process", y en la fase de inicio de la Universidad son los siguientes:
Una vez que haya comenzado sus clases necesita tener tantas citas sean necesarias con el orientador hasta que se aprenda a donde y con quien debe resolver problemas de diferentes clases, conocer sistemas de ayuda existentes en el College, hacer preguntas y crear su plan de estudios (SEP).