Vice President of Student Services Home
Dr. Arnulfo Cedillo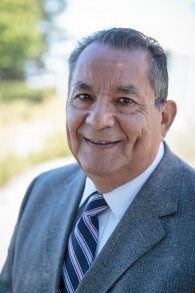 Dr. Arnulfo Cedillo joined Merritt College as Vice President for Student Services on July 14, 2014, after serving nearly 20 years in  higher education administrative positions. At Merritt, he is responsible for making sure students are getting the services that will help make their educational experience successful, from Financial Aid to Health Services to the Transfer Center (see the Student Services website here).
Dr. Cedillo brings many years of excellent experience to Merritt. Most recently, he spent eight years in student services at the College of  Marin, and has also served as Dean of Students at City College of San Francisco, Assistant Dean of Student Services for Merritt College, and Assistant to the Vice President of Administration/Business Affairs at Cal State Hayward. He also has served on the Board of Trustees for the Chabot-Las Positas Community College District since 1985, as well as serving on the advisory board for the Union City Christian Academy.  He is a lifetime member of the California State University, East Bay, Alumni Association and a charter mentor for the Puente Project at Chabot College.
Dr. Cedillo holds a Doctorate in Education from the University of San Francisco in Organization and Leadership, an MPA in Public Administration from California State University, East Bay, and a Bachelor of Arts degree in Speech Communication from California State University, Fresno.
Merritt College is fortunate to have an administrator with such impressive credentials and experience, and Dr. Cedillo is pleased to be serving in his newest role. "I'm proud to have the responsibility of serving the students of Merritt College," he says. "Our objective is to provide innovative, effective approaches to helping our students no matter what their situation is. We are continuously improving the services we offer and encourage students to take advantage of them and let us know if there is anything more we can do to help  reach their goals."