Dr. Lilia Chavez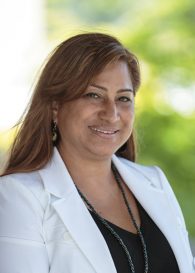 Office of the Vice President of Student Services
Dr. Lilia Chavez was named Vice President of Student Services in December 2019.  In her prior role she served as Dean of Special Programs and Grants, as of April 13, 2016. She joined the college in 2014 as  the Director of Student Activities & Campus Life. She is a Chicana/Latina, Social and Spiritual Activist/Educator who seizes each opportunity to work with underrepresented, underprepared, and underserved Communities. She has an extensive teaching and professional record. Dr. Chavez has worked as an educator, counselor, consultant, administrator, cultural broker and spiritual guide.
Dr. Lilia Chavez has worked at various community colleges in different capacities and programs focused on Student Success.  She has worked at San Francisco State University (SFSU) where she was the Director of the Office of Student Programs & Leadership Development.  In this role she oversaw 300 student organizations that engaged students in professional, academic, political, social, Greek life, religious, and cultural events. During her time at SFSU she was also instrumental in writing grants and developing various programs. One such program was the Mandatory Academic Probation Program (MAPP) that focused on providing students with a second chance to increase their retention and academic success.  Another program, Pass the Torch, encouraged collaborative learning from students for students in basic skills math.
Dr. Chavez has presented at many conferences focused on Student Empowerment.  She has published books through Patsons Media Group and Chusma House publishers. These works focused on elevating student voice and educational equity.  She has served as a radio host on topics of Latinos in Education and Women in the Arts. She has written many community grants to reduce violence and increase educational access for underserved communities of color.  Her work has included bilingual/bicultural group facilitation, extensive seminars and workshops.  Moreover, she has been a selected commencement and award events key note speaker for high schools, community colleges, and universities.
Dr. Chavez holds an Associate's Degree from Berkeley City College, a Bachelor of Science in Organizational Behavior from the University of San Francisco, a Master of Science in Rehabilitation Counseling from San Francisco State University, and her doctorate in International and Multicultural Education from the University of San Francisco. She prides herself on her work of "social justice, human transformation, student empowerment, and championing student success" at all levels.  She believes that "A set back in life, is a setup, for a great comeback!"