Centro Latino Services Home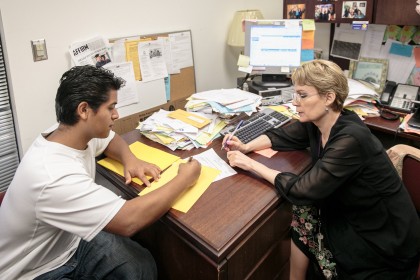 Centro Latino Services at Merritt College is committed to provide support services to students from various ethnic, cultural, and linguistic backgrounds who desire to pursue higher education. While collaborating with other programs on campus and surrounding communities, the Centro Latino will focus on outreach, recruitment, and retention of Chicano/Latino communities.
Our vision is to create educational opportunities for students of underrepresented backgrounds that will help increase their resources, skills, desire for lifelong learning, and enhance their quality of life through education.
Counseling
Bilingual and Bicultural Counselor
Academic, Career, Personal Counseling
Community Referrals
High School Concurrent Enrollment Advising

Specialized Services
Coordinate and Facilitate High School Presentations
Outreach Activities
Multicultural Presentations to Faculty

Community and Fruitvale Services
Bilingual Academic Counseling for ESL and College-level Courses

Other Resources
AB 540 Advising
Information on Scholarships/Becas
Information on Bilingual Courses
Referral to Puente