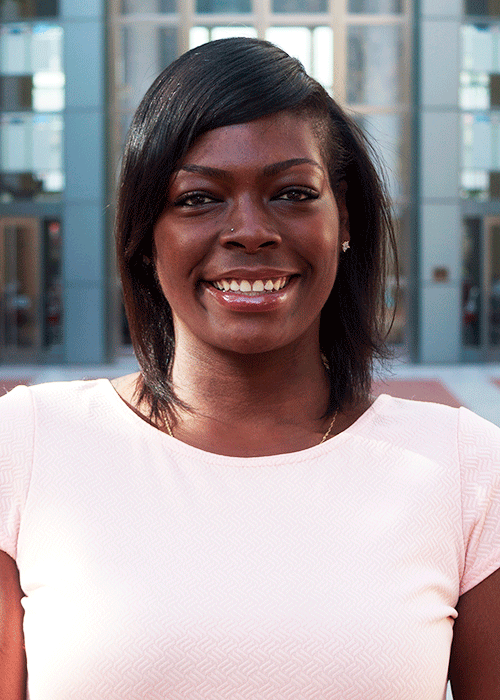 Ms. Myeisha G. Williams, affectionately known as "My", is the substitute Staff Assistant for the Vice President of Student Services at Merritt College. She has over four years of experience working in higher education and two years working in local politics. Her most recent activity includes serving as the Campaign Assistant for Oakland Rising Action's 2020 Election Campaign Season; recruiting volunteers, collaborating with partners, and providing political education to voting communities.
Prior to Ms. Williams' engagement in local politics, she served as the sub-committee co-chair for the Equity, Inclusion, and Diversity Committee at Mills College, Academic Affairs Chair to the Associated Students of Mills College, and a member of the Education Policies Committee to the Board of Trustees at Mills College. She worked in the political science department of the Lorey I. Lokey School of Business as a contributing author to the manuscript," Descriptive Representatives and Debating Minority Rights: The Case of Lesbian, Gay, and Bisexual Elected Officials."
From 2014-2016, Ms. Williams served as the Interclub Council Chairperson to the Associated Students of Merritt College. Her leadership skills and passion for campus life and student activities increased student activism and club registration tenfold. In 2015, she interned for the Office of Congresswoman Barbara Lee interpreting legislation, advocating for policy change, and managing constituents' concerns. In 2016, Ms. Williams was appointed President to the Associated Students of Merritt College. She graduated from Merritt College with her Associates of Arts in African American Studies in 2016, then transferred to Mills College where she obtained her Bachelor of Arts in Politics, Economics, Policy, and Law with a concentration in Public Policy in 2018. She completed her Masters of Public Policy from Mills College in 2020.
Ms. Williams volunteers with local community-based organizations supporting initiatives regarding the city's homeless/unsheltered population. She has won numerous awards for her scholarship and athleticism and continues to enjoy playing volleyball in her past time. She cares for her developmentally disabled mother who is an amazing embroidery artist at Creative Growth, in Oakland, Ca.