Merritt College Nursing Program
Named # 9 in the State
by RegisteredNursing.org for 2022
See Merritt College rankings HERE.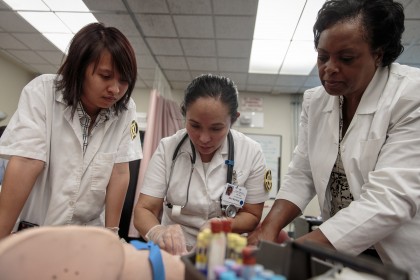 Associate Degree Nursing Program

The 2023 ADN Brochure and Application are posted (see below).
Please read the Nursing Application FAQs if you have any questions. Inquiries not covered there can be directed to ADNadmissions@peralta.edu
The Nursing Department suggests making an appointment with a Merritt Counselor to discuss your transcripts and educational goals
.
Due to the large volume of emails received, the Admissions Team will not
respond to queries that are covered in the application brochure.
———————————————————————
Welcome to the web page for the Associate Degree Nursing (ADN) Program of Merritt College in Oakland, California! Our hope is that this site will provide an educational, helpful, and entertaining experience for all visitors, whether you are a nursing student, educator, new graduate, experienced professional, or just interested in healthcare.
Please see the following ADN brochure for additional details.
The Merritt College ADN curriculum is a two-year program.  Merritt College and the ADN Program have made every reasonable effort to assure that information contained on this web page is accurate and current. To adhere to and implement state regulation, information and requirements are subject to change without notice. Therefore, Merritt College and the Allied Health Department reserve the right to add, amend, or repeal any of their rules, regulations, policies, and procedures to comply with state or district regulations.
Students are well-prepared for the California State NCLEX exam when they complete the ADN program at Merritt College. The pass rate for recent years is available on the web –
ADN to BSN – Advanced Placement Option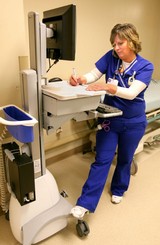 Current Merritt College ADN students can make a seamless transition to the Cal State East Bay BSN program.  The student should meet with a Merritt College counselor to review their coursework and eligibility for CSUEB.  Additionally, transfer courses used to satisfy pre-requisites must be evaluated by the CSUEB Nursing Admission Coordinator as part of the application process.
The ADN to BSN Advanced Placement Option allows the ADN student to continue their education and complete the BSN program in one year.  This is a 12 month intensive program where all courses are on-line except for the Community Health Practicum and the Health Assessment course. The program begins with enrollment to the upper division leadership theory course that is taught on-line while the student is in the last semester of the ADN program.  The incoming ADN student will be awarded 20 upper division college credit units for passing the NCLEX-RN exam.
Eligibility and application process:
1) Current Enrollment in Merritt ADN program.
2) Meet all CSUEB admission requirements.
3) Complete both of the following applications with CSUEB between October 1st and November 30 of your 3rd semester in Merritt ADN program:
a) CSUEB Admission Application (fee) AND
b) CSUEB RN-BSN Supplemental Application (no fee).
For more information and the application, go to:  Cal State East Bay ADN to BSN Program.