Veterans Services Program Home

Welcome to the Veterans Services Program
Thank you so much for your interest in Merritt College! The Veterans Services Program provides assistance to veterans and their dependents who may be eligible for various educational benefits. To help you get started, we've put together a list of "New Student Veteran" enrollment steps. Once you've laid the groundwork, schedule a Veteran's Counseling appointment at (510) 436-2475. We hope this helps clarify the process, and we look forward to meeting you! (Pictured, l-r: Rocky Dunn, Army Vet, CyberSecurity major; Margie Rubio, Merritt's VA Certifying Official; Terrell Woodard, Navy Vet, Nursing major. 
 Once your application is processed, the U.S. Department of Veterans Affairs will send you a "Certificate of Eligibility" (COE) via U.S. Mail.  Bring your COE and your DD214 to your first counseling appointment.
 B. Become a Merritt College Student
(2) When your application downloads successfully, you will get a confirmation email congratulating you on joining Merritt College. 
(3) Your "Welcome email" contains instructions to create a password-protected account in Passport.  Passport is the electronic system you will use to add and drop classes, view your grades, etc. 
In Passport, you will be assigned a Student ID number.  Bring your student ID number and your password when you come to your first counseling appointment.
If you have trouble with any of the above steps, you can get help in the Merritt College Welcome Center, Bldg R, Room 105, from 9:00-4:00 Monday through Thursday.  Our VA Certifying Official, Ms. Margie Rubio, works closely with student vets and will be happy to help you if you have questions: 

mrubio@peralta.edu

.
C.  Complete the "New Student Enrollment" steps
(1) Orientation
Do online: http://www.studentpathway.com/peralta/merritt/
IMPORTANT: at the end of the online orientation, you're given an option to print a Certificate of Completion. Print and bring this certificate to your first counseling appointment. If you don't have access to a printer, you can use the student computers in R-105 to log back in and print it.
(2) Assessment

To schedule an assessment time, call Merritt Counseling at (510) 436-2475 or drop by R-109. 
To bypass Assessment, bring previous college transcripts that show English and Math grades *OR* bring assessment test results from a previous college.
 For advising purposes, unofficial copies of your transcripts are fine.  However, if you plan to get a degree here or transfer from here to a 4-year college, we need to collect official copies of your transcripts during your first semester.
(3) Student Education Plan (SEP)
Make a Veterans Counseling appointment by either calling (510) 436-2475 or coming in person to
R-109.  Always tell them you're in the Veterans Program.
Bring the following to your first Veterans Counseling appointment: 
Certificate of Eligibility (COE)

Transcripts from all previous colleges

Peralta Student ID number

Certificate of Completion for Online Orientation

Your Passport ID and password (so that you can enroll)
At the appointment, you'll discuss your academic and career goals and create a Student Education Plan (SEP) that maps out the courses you need to reach those goals.  Ask for a signed copy of your SEP.
(4) 
Enroll in Classes

Once you have your SEP, sit at the computers in R-105 (or use your own laptop) to enroll in the courses specified in your SEP.  We have Peer Advisors  to walk you through the enrollment process.
(5) 
Get your Classes VA-Certified

Print your class schedule. Complete a 
Certification Enrollment Form
 to activate your benefits.  You can get these forms from Veterans Services in R-105.  
If you have any additional questions after reading this, don't hesitate to get in touch.  Welcome to Merritt College – we look forward to helping you plan this next phase of your life!
General Counseling/Veterans Services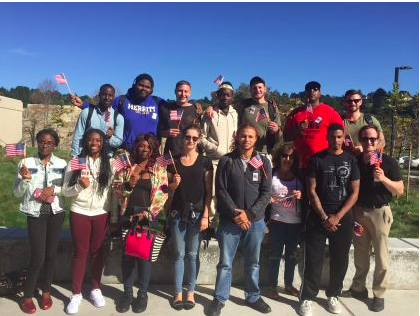 Showing pride in their service to their country, Merritt's student veterans
and supporters walked around campus on Veterans Day handing
out buttons and offering free hot dogs to make the Merritt
community aware of the college's program and its support for veterans.