Define Your Topic
If given the choice, select a topic of interest to you, which fulfills both the scope and requirements of the assignment. Express your topic as a statement or a question (for example, the effect of alcohol on the health of college students).
Gather Background Information
Consult general reference books to get an overview of your chosen topic and to find background information.
Dictionaries and thesauruses define unfamiliar words and suggest related terms.
Encyclopedias provide basic introductions to a variety of topics.
Britannica Academic is an authoritative encyclopedia available online.
Credo Reference is a database offering information in context from multiple reference sources.
To keep your research manageable, as well as to avoid information overload, refine your topic by focusing on a specific aspect (for example, the effect of binge drinking on the health of college athletes). Consult specialized reference books to find more detailed information about your selected topic.
Subject encyclopedias, handbooks, and manuals can help you to narrow a particular topic.
Gale eBooks is an online collection of specialized reference books.
Locate Your Sources
Make a list of keywords to use as search terms when researching your topic in depth (for example, binge drinking, health, college athletes). These keywords may need to be revised as you search for information, depending on the terminology employed in the different resources. If your keywords don't work, look for related search terms or subject headings in the relevant results that you do find.
Search the following online resources:
EBSCO eBooks
The EBSCO eBook Collection contains over 79,000 electronic books on many different academic topics.
Databases
The Library subscribes to over 70 databases, covering a wide range of subjects. The following major databases, accessible on the library website, are good places to start your online research:
Evaluate Your Sources
Before deciding to use any information source, remember to apply the CRAAP test to ensure that it is appropriate for academic research. You want to evaluate potential information sources for the following characteristics: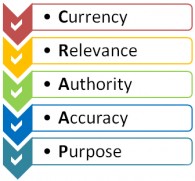 This is particularly essential for resources found on the Web, as almost anyone can publish information online with relative ease.
Cite Your Sources
Finally, but most importantly, remember to cite all the sources that you use in your research paper. Any ideas or words that are not your own that you quote or paraphrase must be cited in the body of the paper, as well as in the bibliography or works cited list at the end of the paper. Citations must be formatted in an appropriate academic style. The most commonly used citation styles are American Psychological Association (APA) for the behavioral and social sciences, Modern Language Association (MLA) for the humanities, and University of Chicago/Turabian for either the humanities or sciences.