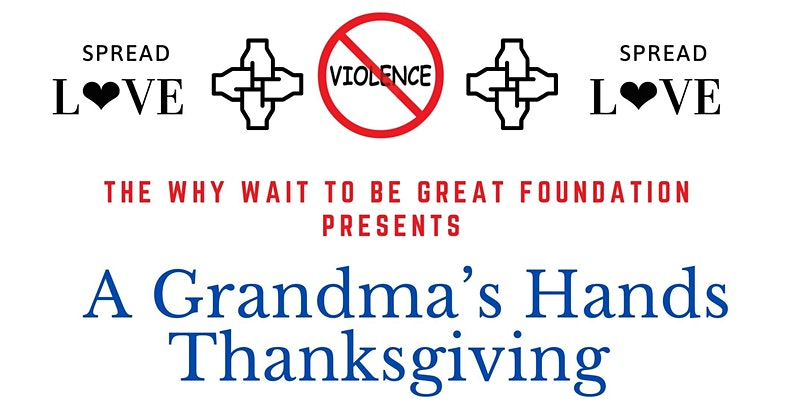 Free meals and Volunteer Opportunities for Thanksgiving Weekend:
WEDNESDAY 11/24:
Grandma's Hands Thanksgiving Community Event
What: Soul food restaurant Grandma's Hands is giving away hot meals for Thanksgiving. The event will also have music. Meals and groceries will also be delivered to those in need throughout Oakland. Registration for the event is available online.
When: Wednesday, Nov. 24th from noon to 5 p.m.
Where: 7633 MacArthur Blvd. (near 77th Avenue), Oakland
Volunteer/Donate: For more information on volunteering or donating, please visit Grandma's Hands' Instagram page.

WEDNESDAY 11/24:
What: Monster Pho will be distributing "Thanksphogiving" meals to the community.

When: Wednesday, Nov. 24 from 10 a.m. to 3 p.m.
Where: 3905 Broadway (near 40th Street), Oakland

THURSDAY Thanksgiving  11/25:
Lake Merritt United Methodist Church (UMC) Thanksgiving Dinner
What: The Lake Merritt UMC will be giving away hot Thanksgiving meals to the community.
When: Thursday, Nov. 25th. from noon to 2 p.m.
Where: 1330 Lakeshore Avenue, Oakland, CA 94606
Donate/Volunteer: To volunteer for the Lake Merritt UMC Thanksgiving Dinner, please fill out this
form. Donations are accepted online.
THURSDAY Thanksgiving 11/25:
What: Two Star Market will be giving away hot Thanksgiving meals to the community.
When: Thursday, Nov. 25th at 1 p.m.
Where: 2020 MacArthur Blvd. (near Dimond Avenue), Oakland
Volunteer/donate: Fill out this form to volunteer. College Avenue Presbyterian Church Providing a to-go meal on Thanksgiving Day from 11 am-12 pm at 5951 College Avenue,
Oakland.
Sign up ahead of time at The Giving Heart's signup on its website, www.thegivingheart.org Annual Community Thanksgiving Feast at the Greater Richmond Convention Center is offering carry-out meals and curbside pick up again this year because of the pandemic. To-go meals will be given to visitors from 11 a.m. to 2 p.m. Thursday, Nov. 25, at the convention center entrance at 5th and Marshall streets. Meals are first come, first served, with a limit of two meals per person. Details: www.thegivingheart.org or (804) 749-4726.
Meals for curbside pickup will be available at specially marked places outside the convention center at specific times – 11:30 a.m., 12:15 p.m., and 1 p.m. The curbside distribution is limited to six meals per person through.
Black Pride RVA, UGRC, Minority Vets and Diversity Richmond are hosting a free hot Thanksgiving meal from 11 a.m. to 3 p.m. Thursday, Nov. 25, in the Diversity Richmond event hall, 1407 Sherwood Ave. in North Side.
People may sit and enjoy dining in or pick up food to carry home.
Details: diversityrichmond.org or (804) 622-4646.
Volunteers interested in assisting with the Grab and Go Free Lunch Distributions should contact Doris Hankins (dhankins@peralta.edu) or Alejandra Cerda (acerda@peralta.edu).
[button url="https://www.merritt.edu/student-life/wp-content/uploads/sites/285/2020/06/Student-Housing-Resources4.pdf" target="self" style="glass" background="#006bb6″ color="#FFFFFF" size="5″ wide="no" center="no" radius="auto" icon_color="#FFFFFF" text_shadow="none"]Additional food and housing resources[/button]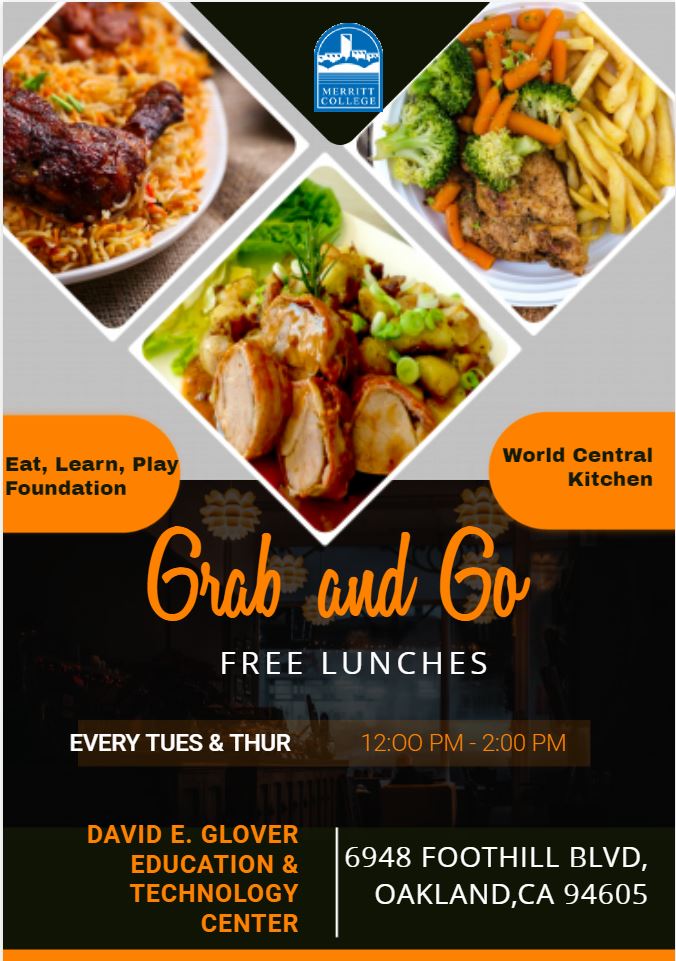 [divider top="no" text="Go to top" anchor="#" style="default" divider_color="#999999″ link_color="#999999″ size="3″ margin="15″]
Welcome to Merritt S.O.U.L. (Sustainable Oakland Urban Lives)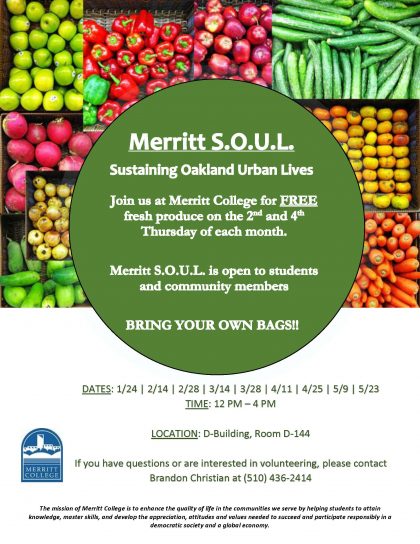 We are back for Spring 2019 on the 2nd & 4th Thursday of each month, 12-4 p.m, in D-144. All are welcome…please bring your own bags!
The dates are: 1/24, 2/14, 2/28, 3/14, 3/28, 4/11, 4/25, 5/9, and 5/23.
After two years and more than 5,000 community members, Merritt S.O.U.L. continues to grow and offer more services to Merritt and the far-reaching community. Formerly called, simply, the Food Bank, the name was changed to more accurately reflect its purpose: to provide free produce and other grocery items, along with nutritional information, to our students who need a healthy diet to do well in school and in their lives.
At some point in the future we are hoping to produce a cookbook of healthy recipes using recipes gathered from the community. If you are interested in being part of the cookbook, please submit one or more recipes to me using the guidelines posted HERE. We often provide samples of our recipes during Merritt S.O.U.L. days so come and enjoy them and let us know what you think!
We rely on many volunteers to help us provide services at Merritt S.O.U.L. If you would like to help us for any amount of time, please contact me at bchristian@peralta.edu or just see me in D-144 on one of the designated Thursdays.
Please feel free to send me any comments, thoughts, or suggestions you might have. See you at the next Merritt S.O.U.L.!

Brandon Christian
Coordinator, Merritt S.O.U.L.
bchristian@peralta.edu