Food Resources
Volunteers interested in assisting with the Grab and Go Free Lunch Distributions should contact Doris Hankins (dhankins@peralta.edu) or Alejandra Cerda (acerda@peralta.edu).
Additional food and housing resources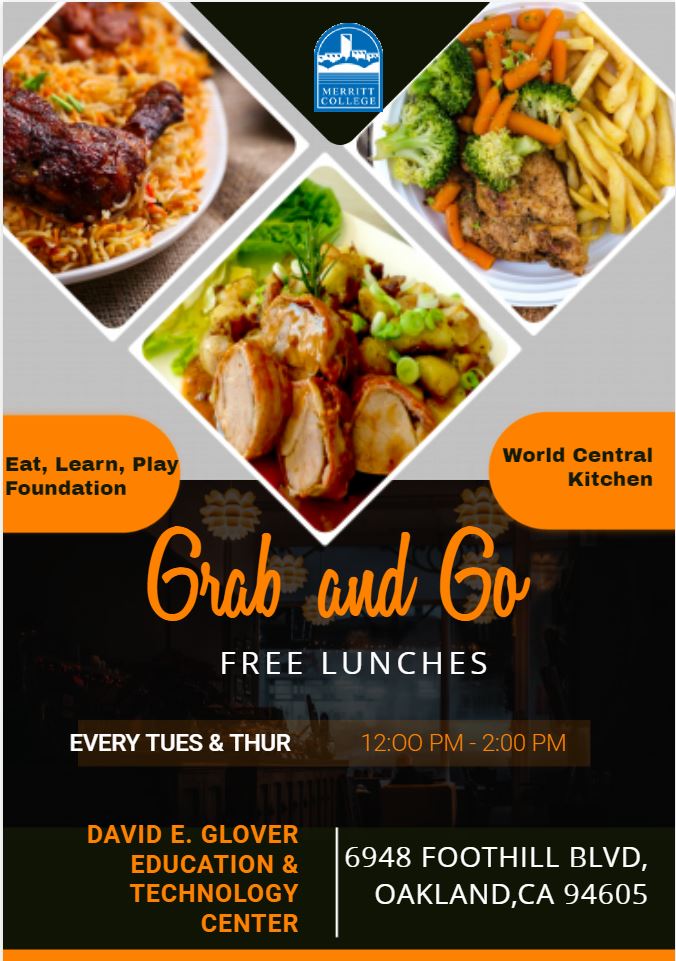 Welcome to Merritt S.O.U.L. (Sustainable Oakland Urban Lives)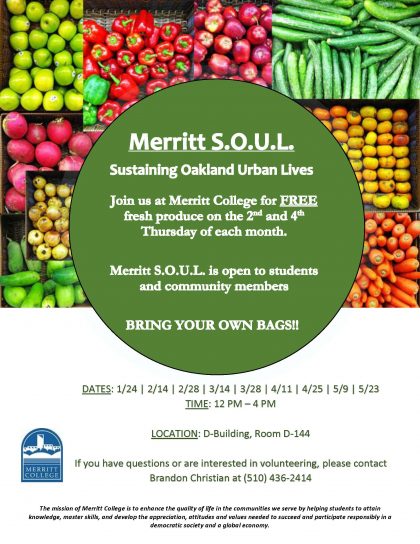 We are back for Spring 2019 on the 2nd & 4th Thursday of each month, 12-4 p.m, in D-144. All are welcome…please bring your own bags!
The dates are: 1/24, 2/14, 2/28, 3/14, 3/28, 4/11, 4/25, 5/9, and 5/23.
After two years and more than 5,000 community members, Merritt S.O.U.L. continues to grow and offer more services to Merritt and the far-reaching community. Formerly called, simply, the Food Bank, the name was changed to more accurately reflect its purpose: to provide free produce and other grocery items, along with nutritional information, to our students who need a healthy diet to do well in school and in their lives.
At some point in the future we are hoping to produce a cookbook of healthy recipes using recipes gathered from the community. If you are interested in being part of the cookbook, please submit one or more recipes to me using the guidelines posted HERE. We often provide samples of our recipes during Merritt S.O.U.L. days so come and enjoy them and let us know what you think!
We rely on many volunteers to help us provide services at Merritt S.O.U.L. If you would like to help us for any amount of time, please contact me at bchristian@peralta.edu or just see me in D-144 on one of the designated Thursdays.
Please feel free to send me any comments, thoughts, or suggestions you might have. See you at the next Merritt S.O.U.L.!

Brandon Christian
Coordinator, Merritt S.O.U.L.
bchristian@peralta.edu