Students in "Sustainable Environmental Systems" (ENVMT 2) hike the campus identifying plants and learning how they've evolved. SEE ARTICLE HERE, SEE MORE PHOTOS HERE
Welcome to the Environmental Management and Technology Department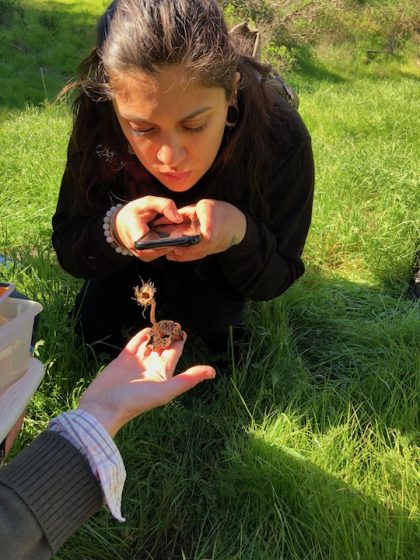 The Merritt College Environmental Management and Technology (ENVMT) Department and Environmental Center (Self-Reliant House) are located in the Oakland Hills between two wild land watershed open spaces. The department is one of the first in the nation and well known for both its introductory courses and hands-on field courses in diverse subjects taught by working professionals. Taking ENVMT classes will help you:
Gain skills in ecological restoration.

Understand sustainable systems and current management applications.

Learn environmental stewardship best practices.

Expand your outdoor education techniques and communication artistry of natural and cultural history.

Gain fundamentals in local and regional planning.

Delve into urban food production in home gardens or expand to school and community gardens or even farms.
ENVMT courses are part of the new Natural History & Sustainability Program, which is in the process of developing two new Certificates of Achievement in Conservation & Resource Management and Urban Agroecology. These certificates are planned to be active by Spring 2020.
Most NHS courses fall in the Biology (BIOL), Environmental Management and Technology (ENMVT), and Landscape Horticulture departments. To read detailed descriptions of courses, click on the catalog below:
For a tentative list of courses to be offered from Spring 2022-Fall 2025, click here: NHS Course Offerings through Fall 2025. For questions about any of our programs, contact Program Chair Laura Forlin at lforlin@peralta.edu or Natural History & Sustainability Program Director Brad Balukjian at bbalukjian@peralta.edu.
Organisms. Ecosystems. People.
Your career in the environment starts here.
Who are we? What do we do? Check out our new video, produced by student Ronnique Currie. The Natural History & Sustainability (NHS) Program emphasizes the critical thinking and problem-solving skills needed to tackle the major environmental challenges of the 21st century. The interdepartmental program offers career- and transfer-driven coursework in three tracks: (1) Natural History and Resources; (2) Conservation and Resource Management; and (3) Urban Agroecology. It is ideal for students interested in the basic science of the natural world and its effect on human society, and provides training for the following jobs: Park ranger, naturalist, field technician, urban farmer, food production analyst, water quality technician, environmental consultant, interpretive aide, environmental educator. How do you get started? It's easy–Merritt is a community college, so all you have to do is fill out an application and then sign up for a class. If you decide you want to pursue of our Certificates of Achievement, there is more detail on these programs above.
Want More Information?
Interested in a career in the environmental field? Read our new FAQ to see if you're a good fit for our program: NHS Interest FAQ. Or you can reach out and schedule a meeting with our program director Ben Nelson here: bnelson@peralta.edu. 
Spring Semester Update
We're back in person, with plenty of PPE and a vaccination requirement to keep us all safe. Enrollment is open for Spring classes; check our our list here and enroll at merritt.edu.
NHS Logo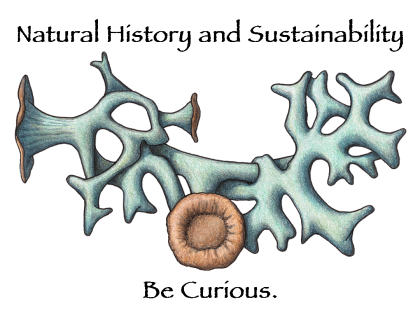 Why a lichen (a combination of fungi and algae) for our logo? Read more about why we chose the mottled tube lichen, Hypogymnia inactiva, to represent our program. Fun fact: The lichen in our logo was drawn by Merritt student Mary Ann King in Prof. Sheila Metcalf-Tobin's "Botanical Drawing" class.   Follow us @NHSMerritt