Non-credit Fee Classes
Merritt College Horticulture
Fee-based Classes

(page update 3/13/20)
ADVISORY on canceled classes
NO 3/14 LH810 Pruning Maples
NO 3/21 LH804 Pruning Flowering Trees & Shrubs
ACADEMIC CLASSES that are CANCELED/POSTPONED:
NO classes NEXT week: 3/16- 3/22
Next week is now SPRING BREAK
spring break is no longer 4/12- 18
Advisories will be regularly posted here and elsewhere on the Merrrit or Peralta websites.
Spring 2020 Class Schedules:
Academic Class Schedule S20
Aesthetic Pruning S20
Floral Design S20
NEXT UP:
FLORAL DESIGN
LH825 Intro to Floral Design was to have the last of its 8 class meetings next week on 3/17 (that may be postponed). And Kay's next class, LH842 Wedding Bouquets, is still scheduled (although everything is subject to change) to run on Tuesday evenings, April 21 through May 12. Kay's classes fill fast these days, so reserve your space now by clicking on the below button:
ENROLLMENT
students cannot enroll in fee-based courses in Passport. Merritt's fee-based courses are not listed in the online Passport schedule, information on Merritt's fee class offerings is available through the department that hosts the courses. Currently, registrations for all Merritt fee-based classes (including the one Biology dept. class*- see below) may be done through Maril M Bull (mbull@peralta.edu) via snail mail or by visiting the Horticulture dept. office (Hort building, H107) on the Merritt College campus (enter southern loop road entrance, immediate left before Children's center, then down road, across from tennis courts). 
Fee class registration form  HERE
FEE-BASED NON-CREDIT CLASSES =
No homework NO grades. No semester-long commitment. No lengthy online application. Open to all, these non-credit, pay-as-you-go classes are open to all, and are designed to be an enriching experience regardless of knowledge or experience level. You need not be an enrolled Peralta student to attend these classes. The primary focus of the Horticulture department's fee classes is either Pruning or Floral Design, but watch for the occasional course in subjects such as Backyard Farming or Bee-keeping.This spring's classes include Intro to Floral Design, Pruning Deciduous Fruit Trees, Intro to Aesthetic Pruning, Bonsai, Pruning CA Natives, Art of the Laceleaf Maple, and many more.
! Interested in hemp growing? We'll likely be offering the first of these new classes this semester, so watch this space for news!
• Fee-based class registration form (includes info on how to register) HERE
• For fee-based course outlines and descriptions, go HERE
ABOUT AESTHETIC PRUNING
Merritt College has been offering the Aesthetic  Pruning class series for more than 20 years, with a wide array of individual modules for all interests and levels of expertise.  These classes, plus additional Horticulture classes and experience, can lead to a  Club-issued Award in Aesthetic Pruning (pdf).
Our instructors are highly experienced professional pruners who have been a part of our program for many years.

The Aesthetic Pruning series includes:

Finding the Essence of a Tree

Pruning Maples

Pruning Flowering Trees & Shrubs

The Art of the Focal Point Tree

Pruning Japanese Gardens

The Art of Tree & Shrub Reduction

and several others
AP classes are are offered on Saturdays at the Merritt College Landscape Horticulture Dept. Room H101. Most classes run 9:30 am – 12:20pm, and cost $39. A small number of classes are twice as long, costing twice the price, and are clearly marked as such on our class schedules. Enrollment instructions may be found on the fee-based enrollment form. Payment is by check only- we cannot accept cash or credit card. Advanced registration is encouraged, but we usually allow pruning class registration on the morning of the class. Prudent pruners will note that pruning class enrollments continue to swell, and at some point we may need to insist upon advance registration (note that registration for our Floral Design class beginning Jan. 28 closed 3 weeks prior to the start date, and several hopeful students were waitlisted) in the near future. If you do choose to enroll day of, please arrive at least 15 minutes early, and please help us and your fellow students by coming prepared with your registration form and check pre-filled and ready to turn over. Thank you.
The Aesthetic Pruning Club is now in its 32nd year!
The club meets at various non-profit locations throughout the year, and periodically hosts workshops separately from the Merritt fee classes. For more info, check out the club's website: aestheticpruning.org.
The club held quite the celebration at its annual winter 2017 pot luck and meeting. The club was officially recognized by the City of Oakland, and Peralta's Board of Trustees, and on hand to bestow the honors were (now retired) PCCD Chancellor Jowel C. Laguerre and Pollinator Posse founder and retired City of Oakland Lakeside Parks Overseer  Tora Rocha. Among the who's who of Aesthetic Pruning (and friends) present to celebrate, share stories, embrace old friends, and welcome new were club founder and class originator Dennis Makishima, retired long haul LANHT faculty and past LANHT dept. chairs (also long haul) Judy Thomas and Tom Branca. Dennis has never stopped being active with the club, Judy Thomas continues to work as a consulting plant specialist (plantinfolady@me.com), and Tom Branca is not entirely retired- he still teaches his LH501 Urban Community Gardening class every semester. Read more about the event in Susan May's article in the Merritt Connection.
• Club Activities:
   petethepruner@earthlink.net
• Questions:
mbull@peralta.edu
Aesthetic Pruning Award requirements (pdf file- right click to save)
ABOUT FLORAL DESIGN
Floral Design at Merritt Landscape Horticulture offers Floral Design classes for designers of all skill levels. Our series of classes provide knowledge, technique and practical experiences for the developing professional floral designer and the DIY designer. Our goal is to share the love of flowers, develop and encourage the personal design style of each student through creative interactive floral designing experiences. Our designers are active in retail floristry, studio-based retail floral design, and designing for personal use.
Current class offerings are under the instruction of Kay Wolff AIFD CFD CCF and include Introduction to Floral Design, Creative Centerpieces, Creative Celebrations (Large Arrangements), Wedding Bouquets and Japanese Ikebana.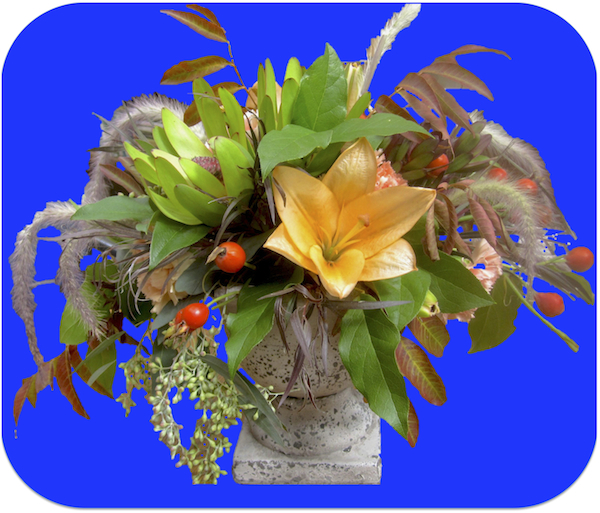 Visit Kay's
professional Facebook page HERE
Spring 2020 Floral
Previous:
Fall 2019 Floral
Spring 2019 Floral Design Class Schedule
Fall 2018/Spring 2019
Spring/Summer 18 Floral Design
_______________________________________
MERRITT COLLEGE BIOLOGY DEPT.
FEE-BASED COURSE: Spring 2020 BIO848NV Cadaver Dissection
SPRING 2020 Cadaver Dissection has begun (Feb. 7, 21; March 6, 27; April 3, 24)! For the last several years, the Merritt College Biology Department's Profesora Em Segmen has offered a rare and unique opportunity, BIO848NV, Cadaver Dissection labs, and students from indeed all walks of life have  her students. These popular and well-attended labs are open to all, and students from indeed all walks of life have found these sessions invaluably enriching. Our diverse array of students has included students and professionals of health-care related fields, physical and massage therapists, artists, yoga instructors, and more.
For more information about what this class may offer you, contact Profesora Segmen: esegmen@comcast.net. To enroll, see/use our fee-based registration form  See below for more info, or get a pdf of same (note that this file is a two-pager- flyer + registration form)
Fee class registration form (also)  HERE
Fee-based class schedule archives:

Fall 2019 Aesthetic Pruning Class Schedule
Spring 2019 Aesthetic Pruning Class Schedule
Spring 2019 Floral Design Class Schedule
Fall 2018 Aesthetic Pruning Class Schedule
Spring/Summer 2018 Floral Design Class Schedule
Spring 2018 Aesthetic Pruning Class Schedule
Fall 2017 Aesthetic Pruning Class Schedule
Fall 2017 Floral Design Class Schedule
Spring 2017 Aesthetic Pruning Class Schedule
Spring 2017 Floral Design Class Schedule