WELCOME TO MERRITT COLLEGE LANDSCAPE HORTICULTURE
(updated 4/28/21)
Yes, we have plants (and books… and who knows what other items*! Online Plant Sale runs 4/26 – May 7th (go to landhortnursery.org). And… we're having a safely masked and socially distanced in-person sale event at our Horticulture Dept. facility (see our can't-fail directions below) on Saturday, May 1, 10am- 3pm. We welcome visitors- visitors who come equipped with common sense and patience, that is (and of which your PPE is redundantly a part of …). Please note that actual sales transactions may be easier for us at this time if you can make your payment online- so if you can bring that iphone, android, ipad thing ready to deal… much appreciated.

*Keep in Mind, Save The Date (some date in October…), Watch This Space, etc.: As you may know, changes are coming to the Hort Dept. and that means some hefty spring cleaning… likely an auction or 2 down the (short) road… maybe some just around the corner, but more likely the more-so more-to-come will come October… Eyes and ears, feelers alert…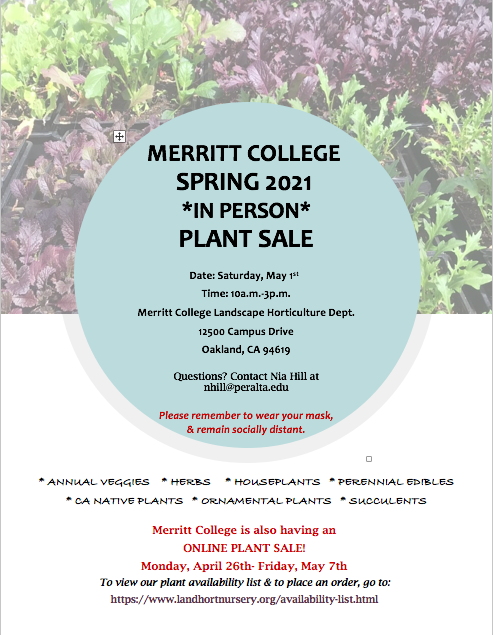 Aesthetic Pruning Series Upcoming Class:
Saturday May 8th 9:30am- 12:20pm
LH811 Pruning Pines with Bill Castellon
Class meets via Zoom. Enroll with PayPal at THIS PAGE on our Landhort Nursery website.
This is the last of our Saturday Fee-based pruning classes for this spring*- AP classes will resume in August, most likely on Saturday, the 29th.

CLASS SCHEDULES
FALL 2021 *Fee-based and LANHT/ENVMT academic class schedules will be posted here very soon, but you can check the academic class schedules of all 4 Peralta colleges within the newly revamped Peralta Passport searchable class schedule!
• S21 LANHT /ENVMT CLASS SCHEDULE 
• S21 AESTHETIC PRUNING CLASS SCHEDULE
OUR PROGRAMS are designed to prepare students for work in all horticultural fields: Arboriculture; Landscape Design & Construction; Landscape Architecture; Parks & Maintenance; Nursery & Greenhouse Management; Floral Design; Aesthetic Pruning; Permaculture.

Read:
• DEGREES & CERTIFICATES
• COURSE DESCRIPTIONS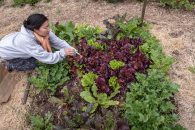 ________________________________________
FEE-BASED NON-CREDIT CLASSES = No homework NO grades. No semester-long commitment. No lengthy online application. Open to all, these non-credit, pay-as-you-go classes are fun and enriching regardless of experience or knowledge level. Aesthetic Pruning, Landscape Sketching, Floral Design, Cannabis Cultivation…  Find the Aesthetic Pruning class schedule above, but we'll be offering other fee-based classes this spring, and once we've set the dates, info will be posted here.  Fee-based class enrollment is now done through PayPal on this secure page on our LandHort Nursery website.
Read: FEE-BASED CLASS PAGE
Enrollment in Fee-Based Courses is now through PayPal at THIS PAGE on our Landhort Nursery website
_________________________________________
Our new URBAN ARBORICULTURE program kicked off in Fall 2018, and the students will tell you it's a great place to learn all there is to know about urban forestry. We offer two certificate levels: Tree Care Specialist (21 units) and Tree Climber Specialist (41 units), and an Arboriculture Associate of Science degree (41 major units + general education requirements).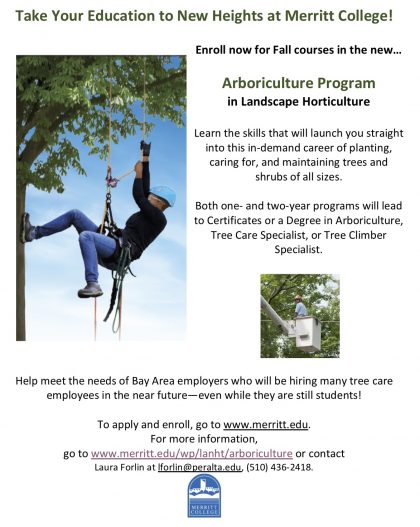 _________________________________________
Driving

: From the Warren Freeway, HWY 13 South, left off of Redwood Road exit; from HWY 13 North, exit Carson Street, forward to top of hill, right on Redwood Rd.; from MacArthur Freeway, 580 East, exit and turn left onto 35th Avenue, in 1.7 miles, 35th Ave. becomes Redwood Road. Drive.06 miles up the hill from the Redwood Shopping Center (near Hwy 13 exits/where 35th becomes Redwood), and turn right on Campus Drive. Drive .07 mi., the campus will be on left. Left turn into the first of the two loop road entrances, then take immediate left onto road before childcare center. Drive .1 mi.; you'll see tennis courts on your right. Turn left to Horticulture dept. auto gate, which opens
 automatically when we're open. If it does not open during scheduled class time, please notify us immediately at (510) 436-2418 (main office) or 436-2491 (field office).
Hours

: For Spring 2021 and the dwindling Fall 2020 semester, we are frequently here on site, and visits may be arranged.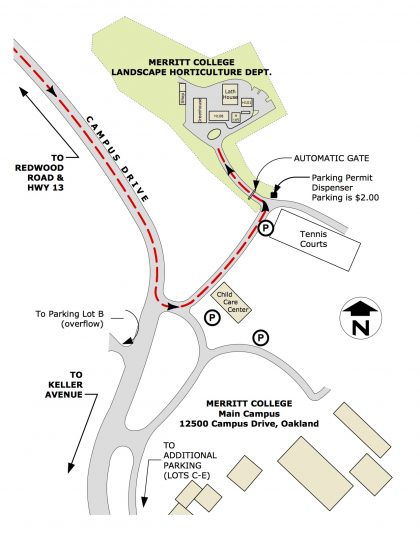 _________________________________________
CLASS SCHEDULES/Important dates: Besides regularly checking your Peralta-issued  student email (you can easily set up forwarding so they'll go to your preferred email!) for news and reminders, it's also a good idea to regularly log-in to your Passport Student Center to check for notifications specific to your class schedule (such as the date enrollment opens for you, early drop dates for short-term classes, or even changes to your schedule). And remember that Passport online searchable class schedule is your source for the most up-to-date info (sometimes classes are even added to the schedule!).
Find our most current class schedules at the top of the page.
View some of our recent class schedules below (Classes scheduling tends to follow a pattern every 2 years).

Academic Classes

• FALL 2020 LANHT/ENVMT Academic Class Schedule
• SPRING 2020 Academic Class Schedule
• FALL 2019 Academic Class Schedule
• SUMMER 2019 Academic Class Schedule
Fee-based Classes
• The Fall 2020 Pruning Class Schedule is HERE
• The Spring 2019 Pruning class schedule is HERE
• The Spring 2019 Floral Design class schedule is HERE
For detailed curriculum information, visit our COURSES and Degrees and Certificates pages. Download a pdf file of our program offerings HERE. Plan ahead- THIS pdf shows projected class scheduling (day/evening fall/spring) through 2020 (everything being subject to change). 
For up-to-date course descriptions and degree/certificate info, see below links.

For more detail on department events, history, news, etc., visit www.merrittlandhort.com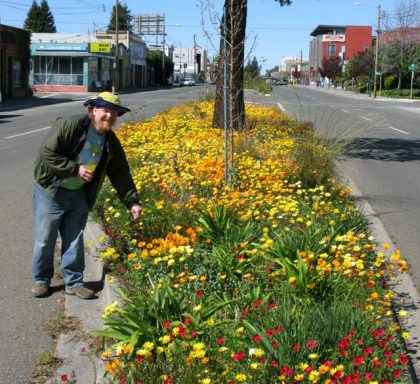 Merritt College Horticulture alum Frank Snapp- creator and caretaker of the 40th St. median strips
_________________________________________
COURSE DESCRIPTIONS  HERE
DEGREE DESCRIPTIONS HERE
ASSOCIATE OF THE ARTS:
• Landscape Architecture
ASSOCIATE OF SCIENCE (specialist + general ed.):
• Associate of Science in Arboriculture
• Landscape Design and Construction Specialist
• Landscape and Parks Maintenance Specialist
• Nursery Management Specialist

CERTIFICATE DESCRIPTIONS HERE

CERTIFICATES OF ACHIEVEMENT:
• Basic Landscape Horticulture
• Tree Care Specialist (New Arboriculture program)
• Tree Climber Specialist (New Arboriculture program)
• Intermediate Landscape Design and Construction
• Intermediate Landscape and Parks Maintenance
• Intermediate Nursery Management
• Landscape Design and Construction Specialist
• Landscape and Parks Maintenance Specialist
• Nursery Management Specialist

CERTIFICATE OF PROFICIENCY:
• Permaculture Design
FEE-BASED CLASSES
(NON-CREDIT pay-as you-go)
Fee-based class registration is now done through PayPal at THIS PAGE on our Landhort Nursery website
Floral Design and Aesthetic Pruning Class information and schedule archives may be found on the fee-based class page.