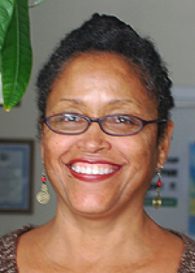 Nehanda Imara is an East Oakland resident, dedicated activist, organizer, educator and adjunct teacher for African American and Environmental Studies at Merritt College. Nehanda created the first Environmental Racism/Justice course at the Peralta Community College District.  Read more about Nehanda's accomplishments in the Examiner.com article:  "Nehanda Imara, Oakland's mother of environmental justice."
Nehanda was part of the leadership team at the inception of East Oakland Building Healthy Communities since 2010. Nehanda served on the interim steering committee and worked to shepherd in the implementation phase of the initiative.
Currently Nehanda chairs the Land Use/Built Environment Working Group and serves on the Leadership Council. Nehanda is an organizer with Communities for a Better Environment and in this capacity engages residents and youth in fighting for a "Just Transition" away from dirty pollution systems and for clean more sustainable environmental policies and programs.
As an organizer for CBE, her outreach and recruitment work has built a strong core membership and broad support base of youth, students, residents and community partners in the Oakland area. She organized the first CBE 'Love Yo Mama Earth Day' in 2009 in collaboration with community partners in deep East Oakland, a community suffering deeply from the present global ecological crisis, bringing information and resources to youth and residents that typically lack access.
Nehanda also serves as Co-coordinator of Merritt's "Black Consciousness Raising Tours to Ghana, West Africa. Nehanda has traveled to over 10 African countries as well as the Caribbean and Central America