Natural History & Sustainability Home
        Welcome to Natural History & Sustainability (NHS)
Merritt's new student-centered Natural History & Sustainability (NHS) Program emphasizes the critical thinking and problem-solving skills needed to tackle the major environmental challenges of the 21st century. The interdepartmental program offers career- and transfer-driven coursework in three tracks: (1) Natural History; (2) Applied Ecology; and (3) Urban Agroecology. It is ideal for students interested in the basic science of the natural world and its effect on human society. Certificate programs are currently being developed for each track.
For this first Fall semester of the new program, nine courses have been carefully selected to educate students about the biodiversity and ecology of the Bay Area and beyond. No prerequisites are required except for a love of nature, a desire to keep our community environmentally healthy, and a curiosity to learn something new! 
(Want to learn about all the career options in NHS? Enroll now in the late-start, short class  "Evironmental Careers", Oct. 9-Nov. 13, see below.)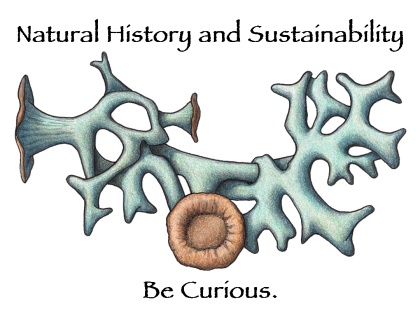 Fall 2018 Courses
(Most classes start August 20; Short classes start later, see below.)
BIOL = Biology; ENVMT = Environmental Management; LANHORT = Landscape Horticulture
Enrollment is now open! Follow the steps to apply and/or enroll now by clicking here
The dream course for ocean lovers.
BIOL 9 Marine Biology (Course #44414, 44415): 4 units, Prof. Analisa Brown, M/W 9-10:15; F 9-11:50. Lab required.
Outdoor labs and an introduction to biodiversity.
BIOL 29 Biology of the Living World (Course #43645, 43646): 4 units, Prof. Brad Balukjian, Tu/Th 9:00-10:15; 10:30-11:45. Lab required.
Naturalist legend Ron Felzer takes you to this unusual desert lake east of Yosemite.
BIOL 62T Ecology of Mono Lake and the Mono Craters (#44351): 1.5 units, Prof. Ron Felzer, Late-start, short course (Thursday evenings and 2 weekends).

Bird whisperer Daniel Edelstein teaches all the birding basics.
BIOL 80C Fundamentals of Ornithology (#44361): 1.5 units, Prof. Daniel Edelstein, Short course (one Tuesday evening and 4 weekends).
A practical guide to getting a job in the environmental sciences.
ENVMT 1 Environmental Careers (#44442): 1 unit, Prof. Brad Balukjian, Late-start, short course (6 Tuesday evenings).
It all flows to the Bay, but why are watersheds so important?
ENVMT 44 Introduction to Creek and Watershed Restoration (#44443): 3 units, Prof. Martha Berthelsen, Short course (Fridays beginning October 12).
It's not dirt, it's soil — a living, breathing, essential part of the biosphere.
LANHORT 16 Soil Management (#43591, 43592): 3 units, Prof. Laura Forlin, W 1-3:15, 3:30-4:45. Lab required.
There's a lot more to plants than roots, shoots, and leaves.
LANHORT 23 Plant Terminology (#43338). 2.5 units, Prof. Lawrence Lee, M 6:30-8:45.
From toadstools to truffles, the savory delights of fungi.
LANHORT 45A-C Mushroom Cultivation (#44063-44068). 2 units, Prof. Theresa Halula, F 10-10:50, 11:30-2:20. Lab required.