Histotechnology Home
Histotechnology
Learn about the in-demand field of Histotechnology and the fulfillment of being a histotechnician and using your skills to help doctors diagnose diseases. Click here or on the three-page flyer below to find out more about the program. You can also find out about Merritt's exciting Microscopy Program at http://www.merritt.edu/wp/microscopy/

Fall 2018 classes start August 20. Enroll now in classes you'll find in the flyer below…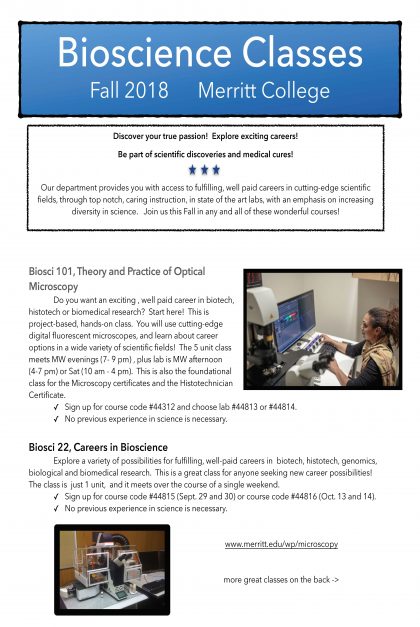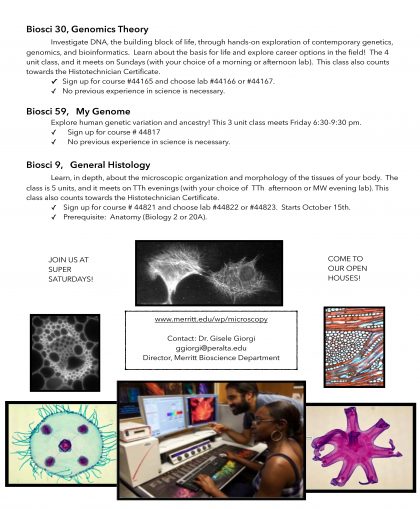 Hello and welcome to the Merritt Microscopy and Histotechnology Programs. 
We are excited to have you join us!
We will start a new cohort with Bioscience 101 in Fall 2018.  This course is part of the first Optical microscopy certificate (MMP) and is also the required first course for the Histotechnology program (MHP). Students should consider their planned schedules carefully, perhaps coordinating and discussing with their work supervisors, since lecture and laboratory work for MMP and MHP classes are time-intensive. Lectures and labs are generally held in the late afternoons,  evenings, and weekends.
At this time you don't have to apply for the Histotechnology program. Just enroll in the Bioscience 101 course that begins August 20, 2018.
If you have any difficulties in signing up online, just come to classes the first night and the instructors will assist you in enrolling in the courses.
Dr. Gisele Giorgi, Merritt Microscopy Program Director, ggiorgi@peralta.edu
Dr. Brian Rowning, Merritt Histotechnology Program Director, browning@peralta.edu
Click here to see more about the Biosciences at Merritt College on Peralta Matters.
The Histotechnology program provides on-campus and on-site technical training, focusing on routine tissue sample preparation, special stains and techniques such as immunohistochemistry, in situ hybridization, fluorescence microscopy and genomics. Training on campus will utilize samples routinely prepared in both clinical and research facilities. As part of their formal training, students of histotechnology will work through study guides provided by the American Society of Clinical Pathologists (ASCP) for its certification examination. Partnerships with local facilities will allow for work experience and internship sites, required for certification of histotechnology graduates, and will provide further training for those interested in research and/or careers in the private sector.