Histotechnology Home
Enroll Now in Bioscience Classes for Fall 2016 
Click on flyer below for more details.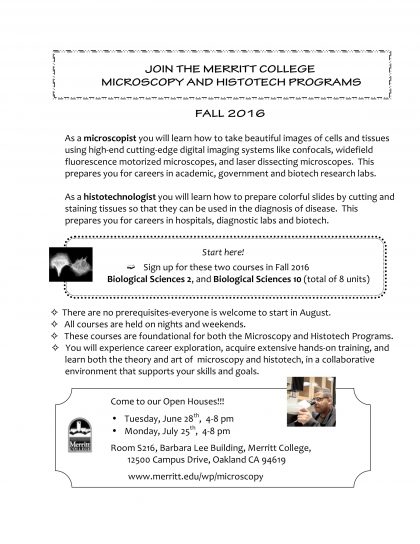 Click here to see more about the Biosciences at Merritt College on Peralta Matters, the District's television  show hosted by  Chancellor Jowel Laguerre.
The Histotechnology program provides on-campus and on-site technical training, focusing on routine tissue sample preparation, special stains and techniques such as immunohistochemistry, in situ hybridization, fluorescence microscopy and genomics. Training on campus will utilize samples routinely prepared in both clinical and research facilities. As part of their formal training, students of histotechnology will work through study guides provided by the American Society of Clinical Pathologists (ASCP) for its certification examination. Partnerships with local facilities will allow for work experience and internship sites, required for certification of histotechnology graduates, and will provide further training for those interested in research and/or careers in the private sector.
Below is a chart of the progression of the program's Certificate of Achievement and, following that, the curriculum for the program.