Genomics Home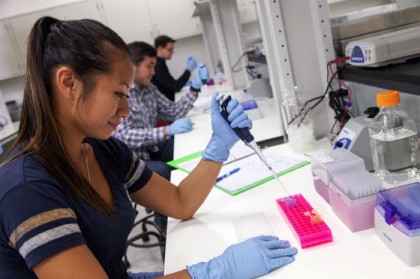 See video "Preparing for a Career in the Emerging Field of Genomics"
Genomics is the most predominant aspect of biology concerned with the interaction of DNA in a cell with the processes that occur in a cell and your own body. This includes the structure, function, evolution, and mapping of genomes and processes all at once. With brand new lab facilities and classrooms, Merritt College is offering two Certificate programs that will put students at the forefront of the exciting field of Genomics. The new 5,000-square-foot laboratory located at 860 Atlantic Ave. in Alameda, CA is equipped with more than $2 million worth of state-of-the-art equipment. The new facility gives students access to relevant high-tech devices providing them with a means for practical experience. The Genomics certificate can be completed in as little as four semesters.
Career opportunities
Everything that is living has DNA and is therefore pertinent to this area. Technicians with a genomics background can work in Pharmacology, Forensics, Agriculture,  Disease Detection, Food Pathogen Detection, Water Quality, Biofuels, Waste Management,  Toxic Waste Site Clean-up, Cancer Research, Progressive Genetic Disease Research (such as Alzheimer's), Genetic Counseling, Tracking the History of Life, Conservation, Forestry, and Computer Science.