Black Student Union Home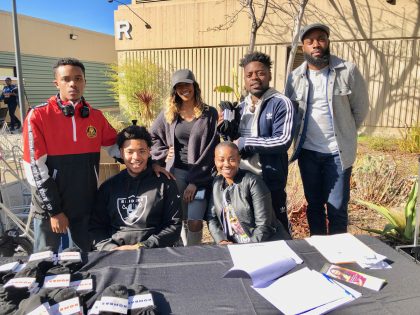 (Photo above) Members of Merritt's Black Student Union welcomed students on the first day of Spring 2019 classes, offering a promotional pair of Bomba socks! Pictured are President Jerold Robinson, Vice President DeShawn Campbell; Secretary Rhyan Hedge, and other members, with Club Advisor Jason Seals (right), African-American Studies instructor and Chair of the Ethnic Studies Department.
Merritt College Black Student Union is fully committed to providing the necessary support for the African-American students on campus. Merritt College Black Student Union commits itself to making the campus environment productive to the academic achievement of student on campus.
"Black power simply means: look at  me, I'm here. I have dignity. I have pride. I have roots. I insist, I demand that I participate in those decisions that affect my life and the lives of my children. It means that I am somebody.  –Whitney M. Young