Orientation and Assessment Home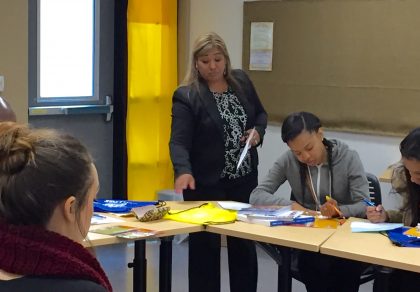 In order to ensure student success, most new students are required to complete an orientation and meet with a counselor before enrolling in classes.
The assessment process is also important (but is not required). Some new students, however, are exempt from assessment services based on their goals and previous educational attainment. If your welcome email states that you are an exempt student, please complete this form and proceed to step 3 below.
 Step 1: Orientation
Complete the online orientation by clicking here. The orientation must be completed prior to Step 2 below (the assessment process).
Orientation offers Merritt College the opportunity to officially welcome you and thank you for choosing us. You will learn about our expectations of you as well as what you can expect of us. During orientation, new students are provided with information regarding the college's programs and services; degrees, certificate, and transfer requirements; and support services and other useful information. Our overall goal is to assist you in getting off to a great start and providing you with the necessary information for a successful finish.
Once the orientation is completed, bring the completion page with you to your assessment (or counseling session if you are exempt).
Step 2: The Assessment Process
In order to schedule an appointment for the assessment, please call 510-436-2460. Make sure to have your Student ID number when you call or you will not be able to make an appointment. If you leave a message, please clearly state your name and phone number with requested date and time of assessment at least one week in advance.
Assessment staff and counselors review multiple measures to advise students on appropriate courses before enrollment. Multiple measures are obtained from your high school transcripts or through tests administered by your local Assessment Center.
If you have an active Peralta Application* and the following high school transcript items, you do not need to take an assessment test:
Valid copy of your high school transcript within the last 10 years, including high school GPA and course grades for your 11th and/or 12th grade year. Course grades must be in the subject in which you plan to enroll (e.g., English and/or Math).
Bring the high school transcript items listed above to your counseling session (please call the Counseling Department at 510-436-2475 for an appointment). If you would like to challenge your placement based on your high school transcript measures, you can choose to take an assessment test.
If you do not have the high school transcript items listed above, you will need to make an Assessment testing appointment.
*NOTE: You must submit an Application for Admission and be an Active Student before making an appointment for assessment testing. Please wait at least 24 hours after submitting your application for admission, before scheduling an appointment for assessment. Active Students have a current Peralta College Application for this term. If you have missed two semesters, or haven't enrolled or received a grade for two semesters, please submit a new Peralta College Application for this term. You can confirm your Active Student status on the PCCD Student Portal or at the Admission and Records Office.
To see the Orientation and Assessment schedule, click here. When you are finished, please be sure to print out that page and bring it with you to your assessment appointment.
Alternative testing If your native language is not English, you may consider taking the ESL (English as a Second Language) assessment.
Note to students with disabilities: If you need special accommodations for the assessment &/or orientation, please contact Student Accessibility Services  staff at (510) 436-2519 to make arrangements.
Assessment is to provide students with information regarding their current skills in reading, writing, and mathematics. The results of the assessment, along with other information provided by the student, will be used by the counseling staff to assist the student in selecting appropriate courses. The assessment is used to aid students in choosing the best classes based on their academic skill level.
To make an appointment for Assessment and Orientation, please call (510) 436-2460.
Be sure when you call that you have your Student ID number or you will not be able to make an appointment. Please clearly state your name and phone number with requested date and time of assessment when you are leaving a message to make an appointment. Please schedule an appointment at least a week prior to the date you wish to attend.
Approximate time that may be needed to complete each assessment:
English and Math        3 hours
Math Only                   1.5 hours
English Only                 2 hours
Please follow the regulations below:
–Arrive at least 15 minutes early and check-in at the reception area in L-132. Your appointment will be given away if you are late and you will need to re-schedule.
–Bring a valid photo ID.
–No children or food/drink are permitted. Cellular phones and other electronic devices must be turned off during Orientation and Assessment.
–Students must have a current application on file with Admissions and Records before attending Orientation and Assessment.
Please keep in mind the following:
–Students can only take the assessment once per year so please take the test seriously. The results are used to assist in placement of the appropriate level English and Math courses.
–Take the Assessment first before seeing a Counselor for assistance with Math and English placement and with course enrollment.
The Assessment Center's office hours during Summer and Fall 2018 are:
Monday, Tuesday and Friday: 8:00 am – 4:30 pm
Wednesday and Thursday: Testing
Step 3: Counseling
If you are exempt, please call the counseling office for an appointment or drop in session and bring the form Release of Enrollment Hold: Exemption From All Student Success & Support Program Services with you. Additional documentation may be required (see the exempt form for details).
 If you have completed English or Math classes at another college or have taken another college assessment that can be used by Peralta staff to determine suitable placement, please call or drop in to the counseling office. Be sure to bring the Release of Enrollment Hold: Exemption From Assessment form and your unofficial transcript and assessment results (and their interpretation) with you.