Orientation and Assessment Home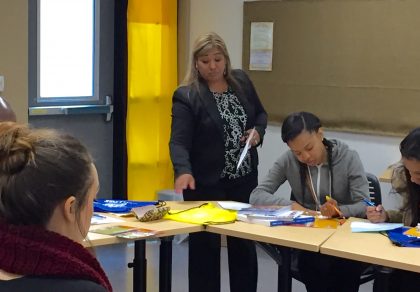 In order to ensure student success, most new students are required to complete an orientation and meet with a counselor before enrolling in classes.
The assessment process is also important (but is not required). Some new students are exempt from assessment process based on their goals and previous educational attainment. If your welcome email states that you are an exempt student, please complete this form and proceed to step 3 below.
 Step 1: Orientation
Complete the online orientation by clicking here. The orientation must be completed prior to Step 2 below (the assessment process).
Orientation offers Merritt College the opportunity to officially welcome you and thank you for choosing us. You will learn about our expectations of you as well as what you can expect of us. During orientation, new students are provided with information regarding the college's programs and services; degrees, certificate, and transfer requirements; and support services and other useful information. Our overall goal is to assist you in getting off to a great start and providing you with the necessary information for a successful finish.
Once the orientation is completed, bring the completion page with you to your counseling session.
Step 2: The Assessment Process
Counselors review multiple measures to advise students on appropriate courses before enrollment. Multiple measures are obtained from your high school transcripts, other college transcripts or through self reported data.
If you have an active Peralta Application* and the following high school transcript item, come directly to The Counseling Department with:
A valid copy of your high school transcript within the last 10 years, including high school GPA and course grades for your 11th and/or 12th grade year. Course grades must be in the subject in which you plan to enroll (e.g., English and/or Math). You may also bring your unofficial college transcripts to the counseling session.
*NOTE: You must submit an Application for Admission and be an Active Student before making an appointment for counseling services. Please wait at least 24 hours after submitting your application for admission, before scheduling an appointment for counseling services. Active Students have a current Peralta College Application for this term. If you have missed two semesters, or haven't enrolled or received a grade for two semesters, please submit a new Peralta College Application for this term. You can confirm your Active Student status on the PCCD Student Portal or at the Admission and Records Office.
Note to students with disabilities: If you need special accommodations for the assessment process &/or orientation, please contact Student Accessibility Services  staff at (510) 436-2519 to make arrangements.
Step 3: Counseling
Meet with a counselor to develop your initial student education plan.
Note: If you are exempt from the Student Success & Support Program Services, please bring the form Release of Enrollment Hold: Exemption From All Student Success & Support Program Services with you when you see the counselor. Additional documentation may be required (see the exempt form for details). 
If you have completed English or Math classes at another college or have taken another college assessment that can be used by Peralta staff to determine suitable placement, please call or drop in to the counseling office. Be sure to bring your unofficial transcript and assessment results (and their interpretation) with you.