Student Learning Outcomes Home
Merritt College
Student Learning Outcomes and Assessment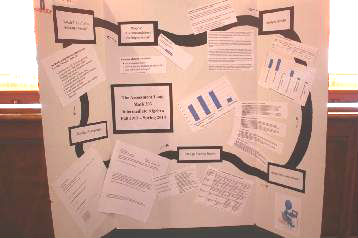 What is an SLO?
Student learning outcomes (SLOs) are the skills and/or knowledge that a student can expect to have upon completion of a specific educational task (course, program, degree, etc.). There are different levels of SLOs: course, program, and institutional.
Why are SLOs used?
SLOs are assessed on a regular cycle in order to ensure that our students are meeting our stated goals and to continually improve the quality of the instruction and services that we provide.
Who does the assessment work?
Everyone at the college is engaged in assessment work. Click here for a variety of examples of assessment work.
How often are SLOs assessed?
All SLOs are assessed at least once every three years. Three years cycles have been developed for all courses and programs to ensure that assessment work is continuous and current.
Where is all of the assessment data kept?
SLOs are a part of all course outlines. They, along with assessment data, are documented in taskstream. Taskstream allows collection of assessment data in one location so that reports can be easily generated.
Who is charged with organizing assessment work for the college?
The Student Learning Outcomes and Assessment Committee (SLOAC) is charged with keeping track of assessment work, organizing professional development activities, reviewing data, and educating the college. SLOAC meets monthly.