Financial Aid Home



Welcome to the Financial Aid Office
(Need help paying for college? Fill out the free FAFSA Form HERE!)
Thank you for considering Merritt College for your educational goals! The Financial Aid Office makes every effort to assist students who are enrolled and are eligible for financial assistance. We want to make sure you understand all the financial aid options available to you and the steps to become successful. To become more familiar with Financial Aid, go to our list of Frequently Asked Questions before you start. For more detailed information, download the Peralta Community College District's 2016-2017 Student Financial Aid Handbook
Need Help with your Financial Aid Application?
FINANCIAL AID & DREAM ACT WORKSHOPS
WHEN: EVERY THURSDAY FROM 1PM-3PM
WHERE: R-113 with Phasasha Pharr
Getting Started
If you have not already applied to Merritt College, you can do so now by  filling out an application here.   Through this process, you will be given log-in information for your own student Passport account, which will send all Merritt communications to you, including all financial aid-related notifications.
Steps to Applying for Financial Aid
Step 1: Fill out the FAFSA Form by Deadline
If you are a U.S. citizen or eligible non-citizen, complete the Free Application for Federal Student Aid (FAFSA Form) online. The deadline to apply for most financial aid options is Oct. 23 for the following Spring and Summer semesters. If you miss the March 2 deadline, you can still apply for Fee Waivers, Pell Grants and Loans by filling out the FAFSA.
–If you are an undocumented AB540 student, complete the California Dream Act application. (See information here.) 

–For one-on-one assistance with any application, please visit the Financial Aid Computer Lab in the R Building, Room 108. The FAFSA form covers only one academic year (Fall, Spring, and Summer), and you will need to reapply the next year.
Step 2: Check your Student Email on Passport.
About two weeks after you submit your application online, the Financial Aid Office will send a follow-up email to your Passport account with a list of things you need to do.  In most cases, there will be missing documents that the Financial Aid Office requires.
Step 3: Visit the Financial Aid Counter to Submit Documents
After you have printed, gathered, and completed all documentation listed, visit the Financial Aid Office in the Student Services (R) Building during drop-in hours to submit your forms.
Step 4: Check for Your Award Letter
The  results of your FAFSA application will be sent by email to your Passport email account approximately 4-6 weeks after your submission to the  Financial Aid Office. Financial aid grant award amounts are based on full-time (12 units or more) enrollment for the semester and pro-rated for less time. Once awarded, a financial aid check will be mailed to you on the next scheduled disbursement date.
Step 5: Make an Appointment with a Counselor.
Once you have determined that you will be getting financial aid and have successfully applied to Merritt College, meet with a counselor to start working on a Student Educational Plan  plan and taking the required Assessment/Orientation to determine your math and English placement. Then you will be ready to register for classes right here!
Questions?
If you have questions, please contact the Financial Aid Office at (510) 436-2465.
New! Effective Fall 2016, California Community College students receiving the BOGFW must meet minimum academic and progress standards to remain eligible for the BOGFW.
Understanding the New BOG Fee Waiver Changes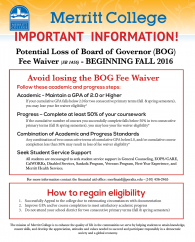 Students must:
Maintain a cumulative GPA of 2.0
Successfully complete at least 50% of all units attempted
If a student is placed on academic or progress probation for two consecutive primary terms, they will lose eligibility for the BOG Fee Waiver and enrollment priority if their GPA falls below cumulative 2.0 for two consecutive primary terms.


–
____________________