Health Services Home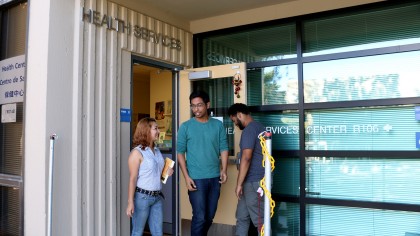 Merritt College Health Services Center
Building R-106 – Welcome!
Jon Murphy, FNP, PHN, Ed.D.
510-436-2533 or jmurphy@peralta.edu
Agnes R. Cerda, MA
Danielle Spencer, MA/Outreach Coordinator
Spring 2016 Hours of Operation:
Mon &Thurs 9 AM-7 PM; Tues &Wed 9AM-5 PM
Drop-In or Call for an Appointment: 510-436-2533
MEDICAL SERVICES
Urgent Care Drop-In, First-Aid, Family Planning, Testing for: Diabetes, Pregnancy, Anemia, Infection &TB.
Physical Health Screening exams for Allied Health programs, Health & Outreach workshops and Community Referrals.
Acupuncture and/or Massage Tuesdays in R105C 9 AM-1:30 PM (by apt. via ccwellness.info or 510-879-7988)
MENTAL HEALTH SERVICES
Mon 9AM-12-30; Tue & Thu 9:00 AM – 4:00 PM
Larry D. Lariosa, MA, MFT in R106 @ 510-434-3826 or Email: llariosa@peralta.edu
Individual & Couples Counseling, Addiction & Recovery Counseling, Self-Care Workshops, Consultation,
Mental Health/Educational Screenings, Assessment and Referral
All Services Free of Charge for Peralta Students
Looking for more Student Health Services?
FREE EXPANDED medical care also available at Laney, Alameda & Berkeley City College Student Health Services or visit web.peralta.edu/health-services/
Laney College I – Campus RN TBA; Acupuncture – Thursdays 9AM – 5PM in Rm T250 by appointment 510-646-3384
Laney College II – with NP Tues and Thurs 9am-5pm Room SC- 410   PH: 510-464-3134 Other Services: HIV testing TB Tests       and Gynecology Visits; Medical and CalFresh (Food Stamps) – John Holman; Mental Health Services – Monday through Thursdays 8:30am–4:30pm; Room SC-414 PH: 510-464-3535 Email: Lisa Sawadogo @ lisasawadogo@peralta.edu
Berkeley City College – Monday & Wednesday 9:30 am-4:30 pm So. Campus Allston Way Ste 203   PH: 510-981-5099
Mental Health Services @ Berkeley City College – Monday Wed & Thursday 9am-3pm, So. Campus 2070 Allston Way Ste 203
PH: 510-981-2919     Email: BCCCounselor@gmail.com
College of Alameda – Health Services/Mental Health Counseling Tuesday through Thursday 9-4 pm Room F-105
Evan Schloss – 510-748-2320
ALL Peralta College Students are Welcome!
---
Indra Thadani, RN, MS is the Director of Peralta Health Services, responsible for all four campuses. Along with being a tenured Laney faculty member, she has 17 years experience in acute hospital care, 11 years in management/education, and has worked for Peralta for 15 years. She is the author of the book "Wellness 4 U," written for high-risk, inner-city adults.