Health Services Home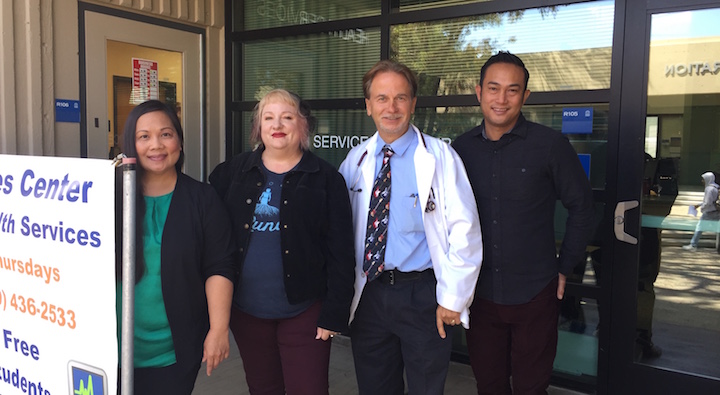 Merritt College Health Services Center
Building R-106 – Welcome!
Jon Murphy, FNP, PHN, Ed.D.
510-436-2533 or jmurphy@peralta.edu
Larry Lariosa MA, MFT, Counselor
(510) 434-3826 or llariosa@peralta.edu
Agnes R. Cerda, MA
Suzie Algarva, MA/Outreach Coordinator
Spring 2017  Hours of Operation:
Mon through Weds 9 AM-5 PM
Thurs 9 AM-6 PM
Call us at: 510-436-2533 or Visit us at Building R-106
MEDICAL SERVICES
Urgent Care Drop-In, First-Aid, Family Planning, Testing for: Diabetes, Pregnancy, Anemia, Infection &TB.
Physical Exams, Health & Outreach Workshops and Community Referrals. Advice Nurse Hotline (510) 384-4930.
Acupuncture and/or Massage on Tuesdays from 9:30 a.m.-1:30 p.m.(call for appointment – (510) 682-8030)
MENTAL HEALTH SERVICES
 Mon. 9 a.m.-4 p.m.; Tues. & Thurs. 9 a.m.-4 p.m. (mostly by appt. only)
Individual & Couples Counseling, Addiction & Recovery Counseling, Self-Care Workshops, Consultation,
Mental Health/Educational Screenings, Assessment and Referral
(510) 434-3826 or (510) 434-3823
All Services Free of Charge for Peralta Students
Looking for more Student Health Services?
FREE EXPANDED medical care also available at Laney, Alameda & Berkeley City College Student Health Services or visit web.peralta.edu/health-services/
Laney College I – Campus RN; Acupuncture – M-F 9AM – 5PM in Rm T-250 First Aid & Questions 510-464-3384
Laney College II – Nurse Practitioner on Tues and Thurs 9am-5pm Room SC- 410 closed for lunch 1-2 (510)-464-3134. Other Services: HIV&TB Testing and Gynecology Visits; Medical and CalFresh (Food Stamps) with John Holman; Mental Health Services – Mon thru Thurs. 8:30am–4:30pm; Room SC-414 with Lisa Sawadogo, LPCC- PH: 510-464-3535 or lisasawadogo@peralta.edu; Claire Crosetti, MTTh, 9-4 (510)-464-3139 or ccrosetti@peralta.edu
Berkeley City College (BCC) – Lisa Wicks, NP-Mon & Wed 9:30am – 4:30pm -2000 Center Street Room 110 (510)-666-0013;  Mental Health Services-(BCC) with Janine Greer, MFT – Mon, Tues, Thurs & Fridays 8am-4pm, PH: 510-666-0013 ; Email: jgreer@peralta.edu ; also available: Jamie Adair MSW & Ann Sussman LCSW on Tues 9-2 & Thurs 9am-2pm
College of Alameda – Health Services 510-748-2320 / Mondays through Thursdays 9-4pm Room F-105; Nursing Services by Rajan Ranjeet, RN, MSN, rranjeet@peralta.edu , 510-748-2320; Mental Health Counseling by Evan Schloss, LMFT, LPCC – Mon thru Thurs 9-5pm, Room F-105; eschloss@peralta.edu
ALL Peralta College Students are Welcome!
---