Health Services Home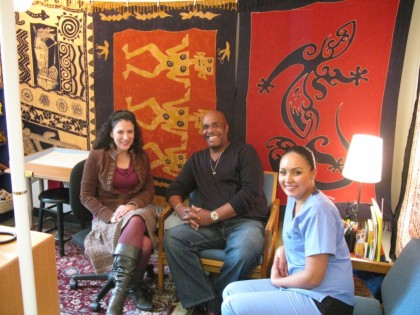 The Health Center offers assistance and supplies to Merritt College students and is staffed by Stefani de Vito, a Licensed Clinical Social Worker (LCSW), and student interns-in-training. Students can receive personal counseling, attend support groups, find social service referrals, get first-aid, and other services as listed below.
All services are free of charge. Call (510) 436-2533 for appointments or drop by R-106
Support for Your Mental Health
Confidential Personal Counseling for individuals, couples and families
Support Groups for addiction recovery, anger & stress management
Help with challenges such as homelessness, abusive relationships and trauma
Information and referrals

Support for Your Physical Health
First Aid and over-the-counter medications such as aspirin and decongestants
Pregnancy tests, feminine hygiene and safe sex supplies
Confidential HIV testing twice per month
Vouchers for low-cost vision care
Who We Are
Fall 2013 Health Center Personnel
Front Desk/Triage
Monday-Thursday: Emmie Calimlim
Peer Support Specialists (Counseling Interns)
Mon-Tues: Will Brown
Wed-Thurs: Deardra Benjamin
Behavioral Health & Wellness Counselor
Stefani de Vito, Licensed Clinical Social Worker (supervisor)

For Physical Exams & Medical Services
Peralta Wellness Center at Laney
Mondays, Wednesdays 9 a.m.-5 p.m.
Student Center 4th Floor, 900 Fallon St.
Free to all students in the Peralta Community College District
Call (510) 464-3134 to make an appointment
Additional Mental Health Counseling
Ms. Meryl Fields, LCSW
Mondays 8 a.m.-4 p.m., Wednesdays 10 a.m.-6 p.m.
Merritt College, Building R, Room 105 F
Call (510) 434-3916 to make an appointment
mfields@lifelongmedical.org
If you get voicemail at these numbers, please leave a message and they will call you back.