Health Services Home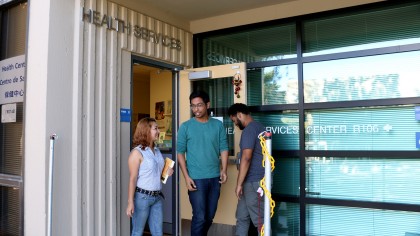 Welcome to the Merritt College Health Services Center
Summer 2015 Hours
We all know how critical health-care services are to being successful in your studies. Thats's why Merritt offers free, high-quality services to meet all of the students' needs. We offer both medical services as well as mental health services with a licensed psychologist. In addition, the Peralta Wellness Center, located at Laney College, is available to all students offering multiple medical and mental health. See our list of services and providers below. We look forward to seeing you!
All services are free of charge.
Call (510) 436-2534 for an appointment
or drop by Building R, Room 106 (entrance from outside).
Services Offered
Medical Services
First aid
Health assessment
Family Planning
Pregnancy Testing
Infection Checks
Prescriptions
TB testing
Physical exams
Health education and outreach
Health education workshops
Mental Health Services
Personal Counseling
Anger and stress management
Addiction recovery
Relationship challenges
Depression
Testing (for DSPS, ADHD, etc)
Services for faculty and staff use, including
presentations, referrals, or issues in class.
Please note: The Health Center is an LGBTQ safe zone.
Meet Your Medical Providers and their Schedules
Below is an introduction to the staff at the Health Services Center and their availability.
Anastasia Barnes-Perrilliat, NP, who received her Nurse Practitioner degree from Samuel Merritt College, has been employed by Healthy Communities, Inc. for the past 10 years. Healthy Communities has been serving Oakland and neighboring cities for the past 14 years, offering not only health services in general, but treating the whole person and bringing about better lives through strong families. (Dr. Jeffrey Watson will provide oversight).
Mondays and Tuesdays, 9 a.m. – 4 p.m.
Thursdays, 1 p.m. – 7 p.m.
Daniel Jin Blum, Ph.D. is serving as mental health counselor at Merritt. He is a Licensed Clinical Psychologist who completed his doctorate at CSPP San Diego. He has spent the past four years in college mental health and is passionate about helping college students get the most out of their academic experiences.
Call for appointment: (510) 434-3916
Location: Building R, Room 105F
Mondays,  9 a.m. – 3 p.m.
Wednesdays, 9 a.m. –  1 p.m.
Fridays (testing),  9 a.m. – 1 p.m.    
Indra Thadani, RN, MS is the Director of Peralta Health Services, responsible for all four campuses. Along with being a tenured Laney faculty member, she has 17 years experience in acute hospital care, 11 years in management/education, and has worked for Peralta for 15 years. She is the author of the book "Wellness 4 U," written for high-risk, inner-city adults.
Wednesdays, 9 a.m. – 4 p .m.