Health Services Home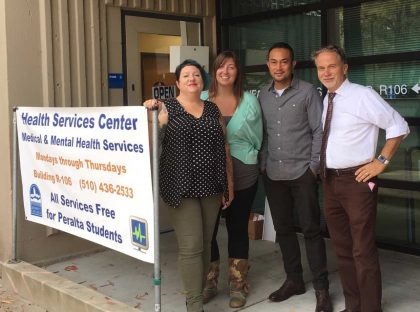 Health Services Center
Mondays and Wednesdays: 9 a.m.-7 p.m.
Tuesdays and Thursdays: 9 a.m.-5 p.m.

Call Receptionist at (510) 436-2533

Vist us at: www.merritt.edu/wp/health

MEDICAL SERVICES
Jon Murphy, FNP, PHN, Ed.D. 510-434-3827 or jmurphy@peralta.edu
Susie Algarva, Dave Medeiros Teresita Mendoza
(Outreach Ambassadors and Receptionists)

Urgent Care Drop-In, First-Aid, Family Planning, Testing for: Diabetes, Pregnancy, Anemia, Infection & TB, Physical Exams, Health & Outreach Workshops and Community Referrals, STI Consultations and HIV Testing,  Advice Nurse Hotline (510) 384-4930. Acupuncture , Tuesdays from 9 a.m.-1 p.m.(appointments: ccacu.net or call 510-280-4801.
MENTAL HEALTH SERVICES
Larry Lariosa MA, MFT, Counselor, (510) 434-3826 or llariosa@peralta.edu
Emily Summers, LCSW, Counselor 434-3823 or esummers@peralta.edu

Individual & Couples Counseling, Addiction & Recovery Counseling, Self-Care Workshops, Consultation, Mental Health/Educational Screenings, Assessment and Referral (mostly by appt. only)
Available Mon. 8:30  a.m.-7 p.m.; Tues. 8:30 a.m.-5 p.m.;
Wed. 10 a.m.-6:30 p.m.& Thurs. 9 a.m.-4 p.m.  
All Services Free of Charge for Peralta Students
_________________________
Looking for more Student Health Services?


FREE EXPANDED medical care also available at Laney, Alameda & Berkeley City College Student Health Services or web.peralta.edu/health-services/
All Peralta Colleges Students Welcome – Paid for by your Student Health Fees
---