Altazor Club Home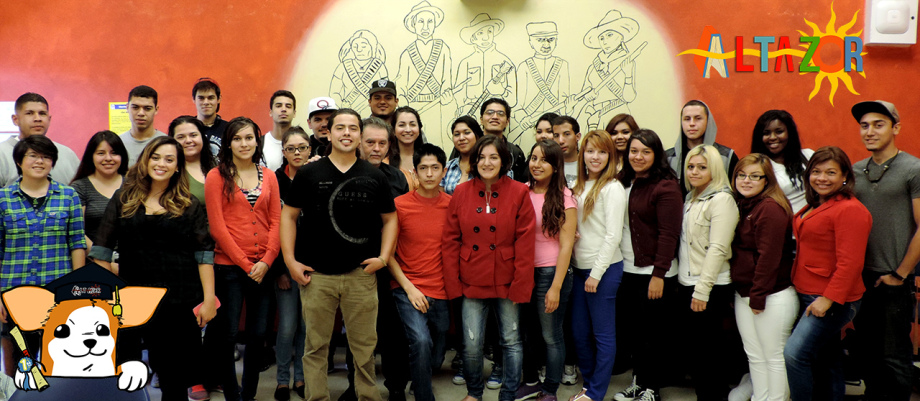 Go to official website: ClubAltazor   Go to Facebook: Facebook
CLUB ALTAZOR'S MISSION: To create a multicultural, multidisciplinary peer support group, open to all students from Merritt College that will help to successfully transfer the students to any four-year college or university of their choice. Altazor is open to all students from Merritt College.
Altazor is the name of a world famous poem written by Vicente Huidobro, poet, political figure, and non-conformist artist from Chile.
The word Altazor is a neologism-an invented word to illuminate the path of knowledge.
Students will be informed of the exceptional resources offered in the Peralta Community College District. Students will become exposed to the different opportunities that Merritt and the other Peralta campuses offer.
This will be achieved by building a close community of peers in which students share resources and support under faculty guidance.
The main purpose of Altazor is to help students navigate the intricate paths of transferring and assist them with this difficult path.
Altazor will provide students with the adequate tools and resources to become individuals and with their example; influence the larger student body at Merritt College.
———————————-
Congratulations to the 13 members of the Altazor Transfer Club who are moving on to prestigious schools in the state and country for Fall 2014. Special thanks to Prof. Claudio Duran for founding the club and guiding, motivating, and inspiring his students to further their education at top universities! Thanks also to club adviser Isela Santana! For  more information about the club, go to clubaltazor.com.
Arcellana, Vincent | University of California at Los Angeles & Berkeley
Del Toro, José | Cornell University
Guzman, Kimberly | San Francisco State University
Hegler, Terrell | University of California at Berkeley
Martinez , Omar | San Francisco State University
Ochoa, Marisela | University of California at Santa Cruz & Berkeley
Perez, Mayra | Hayward State University
Rodriguez, Paul | University of California at Los Angeles
Salcedo, Mariela | University of California at Davis & Berkeley
Ubilla, Omar | University of California at Los Angeles & Berkeley
Zamam, Paul | University of California at Davis
Zamora, Cynthia | Mills College
Zamora, Stacy | University of California at Riverside 
———————————