The Meadow
Welcome to the meadow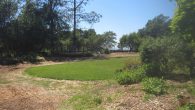 Right off the outdoor kitchen, hub of so many lively college-wide (and district too) gatherings, is our meadow. Pictures of our renewed. meadow coming soon, so check back…but…better yet — seeing it in person is better than this, or the next fuzzy picture.
Merritt College Faculty & Staff:
We love to share our meadow- it's a great place for bringing people together.   to us if you want to bring your class, committee, confab. Or come by any time you need a New Brutalist break, and lunch amongst the greenery instead.
Come and see the new improved (not yet pictured above) meadow during our upcoming Plant Sale  Δ∇ Saturday October 7, 9am to 3pm /Sunday October 8, 12- 3pm ∇Δ for community, food music, demonstrations, APLD, Floral Design, Vendors, and…Plants! Yes! Plants! We got Plants. Plants r Us. Heirloom, perennial, and annual vegetables • succulents • drought-tolerant • Mediterranean • Native • and of course the usual More.