Schedule Info

CLASS SCHEDULES

MERRITT COLLEGE HORTICULTURE
(updated 10/2, 2019)
This Weekend:
Fall 2019 Plant Sale:
Saturday, Oct. 5, 9-5 & Sunday, Oct. 6, 12- 3
Saturday is Plant Fair Day with lots of activities (kid friendly too), and again featuring, back by popular demand, delicious and nutritious lunches prepared by chef Marlese Carroll. And of course we have all kind of fabulous plants. For preview/plant lists, check out www.landhortnursery.org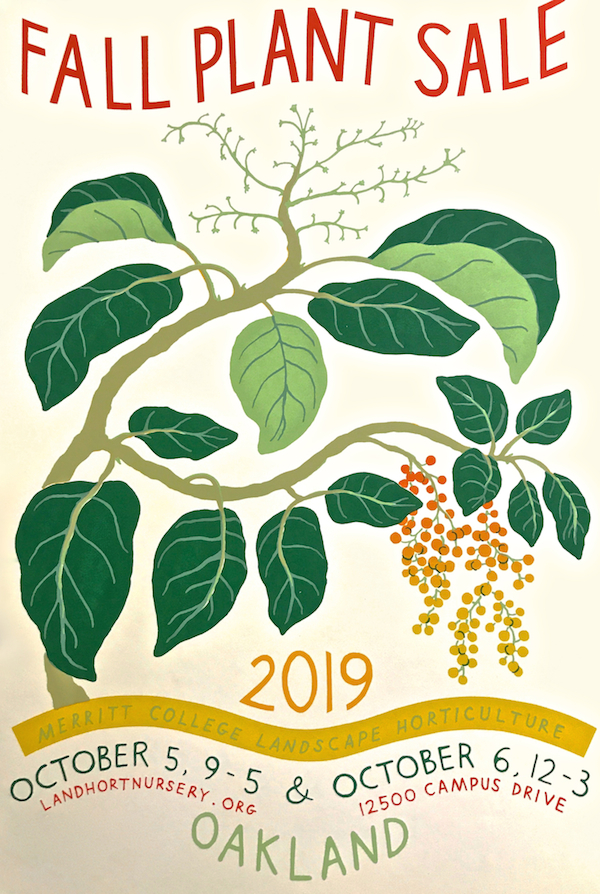 _________________________________________
Upcoming Classes:

FLORAL DESIGN
with Kay Wolff
Oct. 15 – Nov. 26 (Tuesdays) 6- 8:50pm
LH838 Creative Centerpieces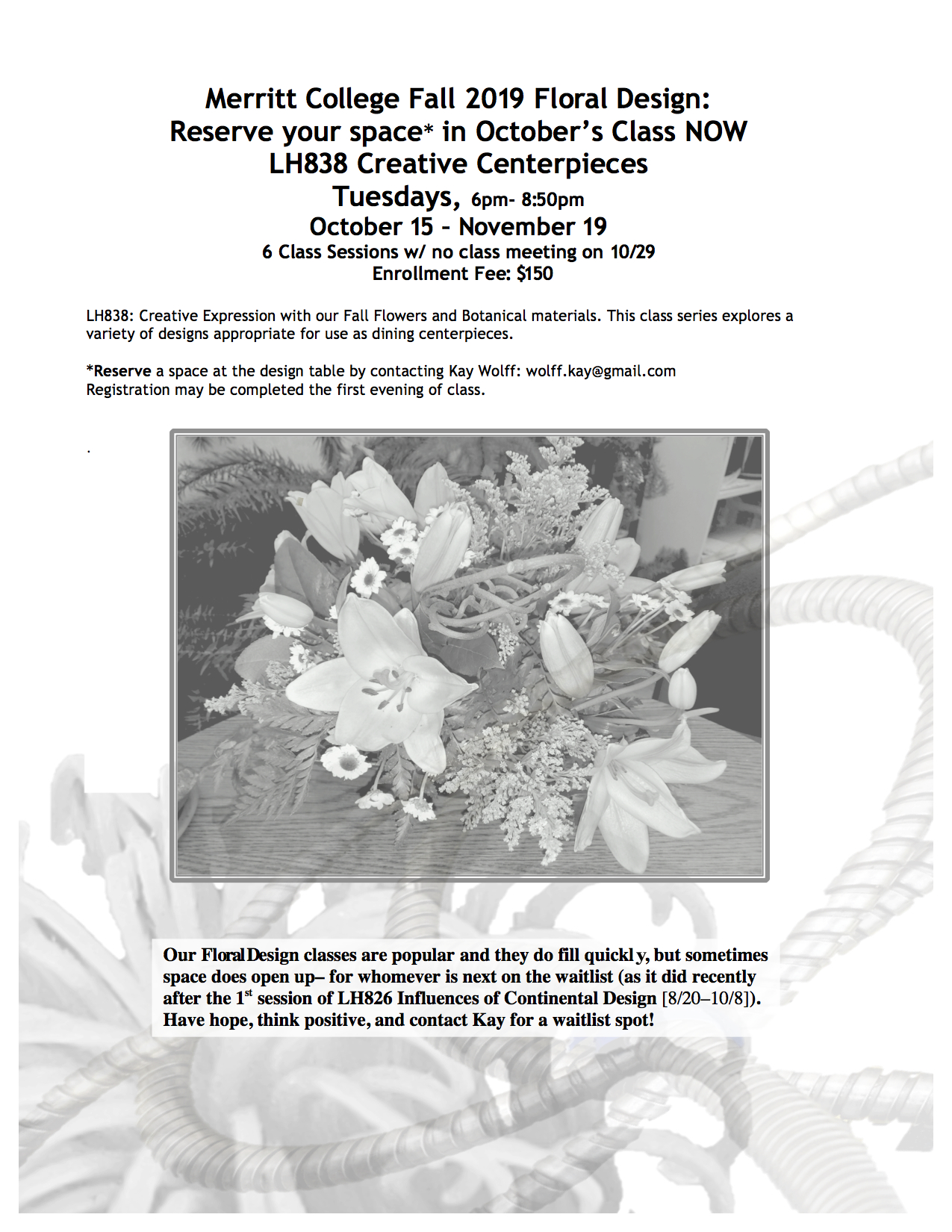 Creative expression with our FallFlowers and Botanical Materials. This class series explores a variety of designs appropriate for use as dining centerpieces.
6 class sessions. Enrollment fee: $150
Reserve your space in the class (or the waiting list- these classes fill fast these days!() by clicking on the below button.
Oct. 20 & 27 (2 Sundays) 9am- 6:45pm
LH26 Pruning This .5 unit academic class taking place over two consecutive Sundays, 9am- 5:45pm is essential for anyone who works with plants at all- that's why it's required for at least 75% of our degrees and certificates, and, of course, for the Aesthetic Pruning Award. You must be an actively enrolled Peralta student to enroll in this class.
Enrollment code: 48008/09
The Aesthetic Pruning series resumes on Nov. 2nd with LH816 Pruning Container Trees & Shrubs with Bill Castellon.  
CLASS SCHEDULES
REVISED! Fall 2019 Academic Class Schedule
Fall 2019 Aesthetic Pruning Class Schedule
Fall 2019 Floral Design (revised)
_________________________________________

FEE-BASED NON-CREDIT CLASSES = No homework NO grades. No semester-long commitment. No lengthy online application. Open to all, these non-credit, pay-as-you-go classes are fun and enriching regardless of experience or knowledge level. This spring's classes include Intro to Floral Design, Aesthetic Pruning, Landscape Sketching, and…we're hoping to offer the first of our cannabis classes soon… 
Read more: FEE-BASED CLASS PAGE
Enrollment: FEE-BASED ENROLLMENT FORM
_________________________________________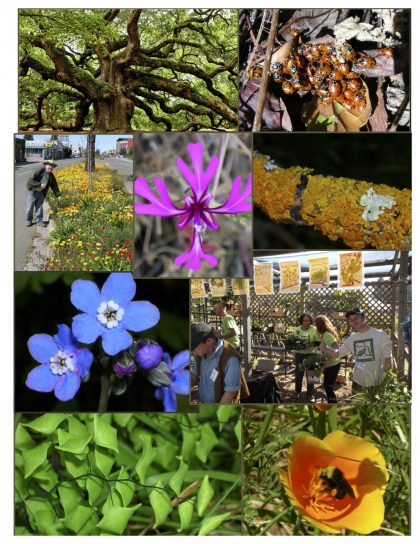 CLASS SCHEDULES: Do NOT rely on print schedule* or pdf 
*Please note that class schedules (all programs) undergo many changes after the Merritt or Peralta-wide class schedules were printed. Don't miss out- a class you need may have been added (or have been canceled, shifted to a new time or room, etc.). Be wise- always check the online regularly updated Passport class schedule. Check these pages for updates, news too!
• Find the most up-to-date class schedules through Passport HERE
• FALL 2019 Academic Class Schedule
• SUMMER 2019 Academic Class Schedule
• Get our Spring 2019 academic class schedule HERE
• The Spring Pruning class schedule is available HERE
• The Spring 2019 Floral Design class schedule is available HERE
For detailed curriculum information, visit our COURSES and Degrees and Certificates pages. Download a pdf file of our program offerings HERE. Plan ahead- THIS pdf shows projected class scheduling (day/evening fall/spring) through 2020 (everything being subject to change). 
For up-to-date course descriptions and degree/certificate info, see below links.

For more detail on department events, history, news, etc., visit www.merrittlandhort.com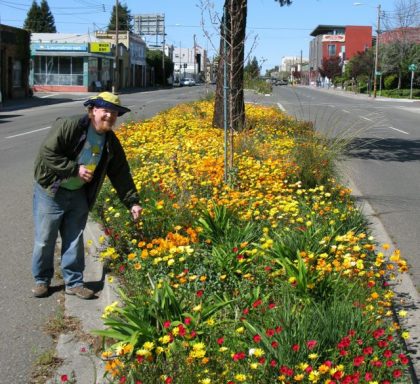 Merritt College Horticulture alum Frank Snapp- creator and caretaker of the 40th St. median strips
_________________________________________
ALWAYS OPEN FOR ENROLLMENT:
LH501 Urban Community Gardening! 
Tuesday mornings 9- 10:45am at Merritt Hort Dept. 
Wednesday mornings 9:30- 11:15am at Lakeside Park (use the side entrance to gardens that is across from Nature Center/Bird Dome)
That's right, LH501 is always open for enrollment, throughout the semester, spring, summer and fall. This zero unit class is a great way to learn all about raised bed vegetable gardening and gardening basics, and all at your own pace. No grades, no commitment, no cost. and is taught by retired (only somewhat, apparently) long-time faculty member/former dept. chair Tom Branca. 
_________________________________________ABOUT CLASS SCHEDULES/ARCHIVES
Plan ahead!- THIS pdf shows projected class scheduling (day/evening fall/spring) through 2021 
EVERYTHING IS SUBJECT TO CHANGE!
Important note about printed schedules
The Peralta-wide schedule of classes is printed far in advance of the semester, and many schedule changes are inevitable. Don't rely solely on the printed schedule of classes, as it won't show room, instructor, and day/time changes, canceled classes, or classes that have been ADDED to the schedule!
Stay in-the-know for our dept. by checking here, or by using Peralta's online Passport searchable schedule of classes, where you will always find the most up-to-date class schedule info for all four Peralta colleges!