Lab School- for Parents and the Community

Lab School Enrollment Opportunities: 
The Merritt College Preschool Laboratory program is currently enrolling children for the Fall 2015/Spring 2016 semesters. For more information about the Merritt College  Preschool Laboratory program  including enrollment, please contact Bonnie Rippberger at brippberger@peralta.edu.
Labschool Publication Brochure 2015
Lab School (For the Parents and the Community)
The focus of the Merritt Preschool Laboratory Center is on building a positive self-image for each child in our program.  Both our interpersonal and facility environment are directed toward a supportive, trust worthy and interesting milieu that gives each child the opportunity to have a wide variety of experiences in a protective environment.
Our student teachers are trained to project a sense of consistent warmth and support for children.  They learn to redirect children when necessary, set appropriate limits and never speak harshly to any child.  They also learn how to provide a sage and healthy learning environment for children.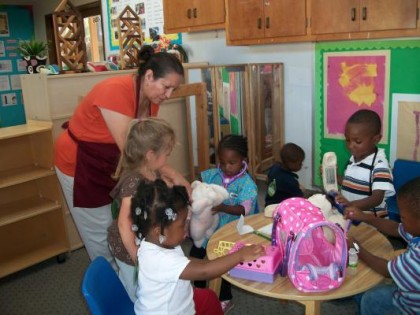 Our child-centered program is based on developmentally appropriate practices.  We focus on the whole child through activities that nurture growth in the cognitive, social, emotional, creative and physical realms.   We have fourteen learning centers in the Lab school that include: cooking, dramatic play, language arts, art, music/movement, table toys, carpentry and science/gardening.  A centerpiece of our program is the project based emergent curriculum.
The materials in the centers range in difficulty over a three to four year span and are changed periodically to afford challenge as children grow.   They are carefully arranged in an organized interesting manner and children learn to help return materials they use so that they develop a sense of care and responsibility.
During the school day, children have a number of social experiences including small group, one-on-one and large group interactions that provide opportunities for each child to practice social skills that are age appropriate.
In addition, our school has few transitions, allowing children continuity as well as adequate periods of time to explore and to involve themselves in meaningful activities.