The Classified Voice newsletter is brought to you by The Merritt College Classified Senate. While our central focus, of course, is Merritt College's fabulous classified professionals, the newsletter covers a broad range of topics, and is designed to be of interest to all. Enjoy! Comments, letters, columns, and other submissions to be considered for publication are welcome. See below CALL FOR SUBMISSIONS.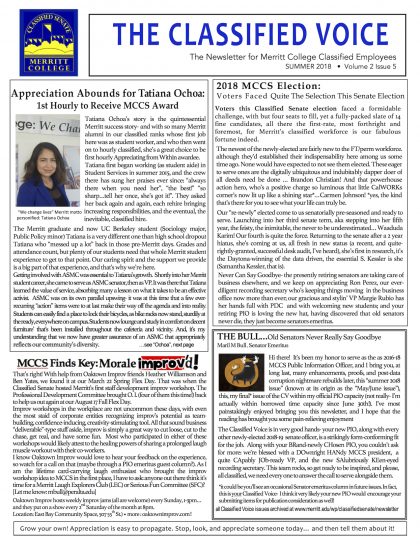 March 2018 Appreciation From Within issue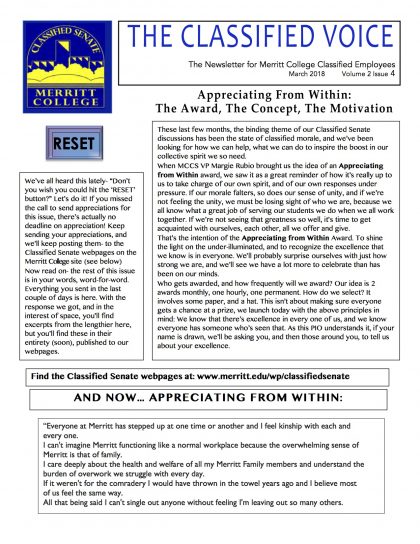 CALL FOR SUBMISSIONS
The Classified Voice wants to hear from YOU, and by you we do mean everyone. All are welcome to send comments, letters, articles, etc. to The Classified Voice. Start your own column! We encourage our classified professionals, faculty, administrators, and particularly the students we serve to send items to be considered for publication, and all across the world are welcome to submit letters and comments (subject to publication consideration).  Subject matter/content relative to the classified experience, or of interest to classified, is the ideal, and, as our classified community is delightfully diverse, "of interest" comprises a lot!
Don't delay your submission due to concerns for perfection or otherwise, editor Michelle Mai will accept rough content, and will work with you to further develop.
 Email your comments, questions, submissions, ideas, cartoons, tech tips, brain teasers, what have you, to: mmai@peralta.edu
Do you want a full resolution or actual print copy of The Classified Voice? Contact mmai for that as well.
April 2017  Classified Voice Special commemorative edition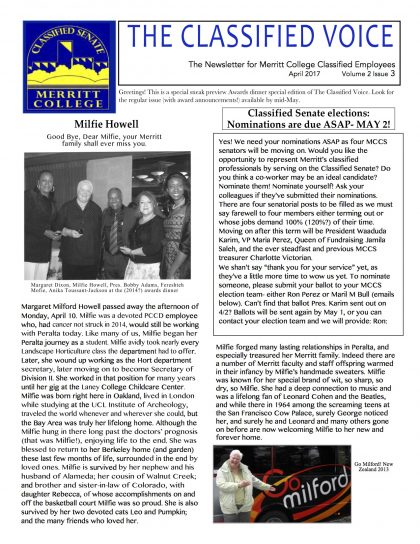 January 2017  Classified Voice Special Flex Day edition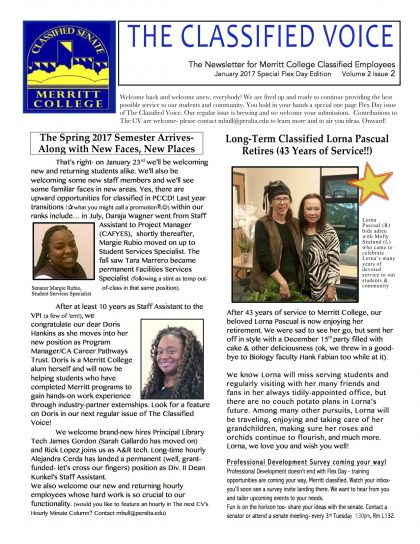 September-October 2016 Classified Voice