The 2020-2021 Merritt College Classified Senate
MCCS Nominations and Appointments for Executive Officers for 2021 – 2022
President: Tachetta Henry
VP: Marisol Roque-Chaves
Treasurer: Jamila Saleh,
Secretary: M. Rubio,
PIO: Maria A. Spencer
The Merritt College Classified Senate is the officially elected representative of the classified staff in the shared governance process. Through direct engagement and participation, its goals are to foster communication and understanding among all college constituents; to improve staff morale by providing a forum for the voice of classified employees; and, ultimately, to enhance the quality of campus services, thus providing Merritt College students with an exceptional educational experience.
2016-2017 Goals
Investigate a viable source of funding, develop a thorough plan, and request formal approval for 0.25 FTE reassigned/release time for the MCCS President to engage in collegial governance.
Create a personnel algorithm to facilitate the referral of questions and issues to the most knowledgeable and/or qualified staff person to handle the situation.
Sponsor two classified professional development activities (one per semester), scheduled when the majority of staff are available, and advocate for managers to shut down offices/service areas and to strongly encourage their staff to participate.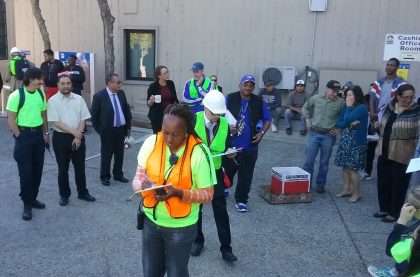 Members of The Merritt College Classified Senate participated in the
October 2016 Great California Shakeout. Spot the senators! (3 in above)