Men's Soccer Home
Men's Soccer 2014
Congratulations to the Men's Soccer Team for winning its first season game 6-0 against Butte College.
Best of luck for continued success in the new season!
———————————————————–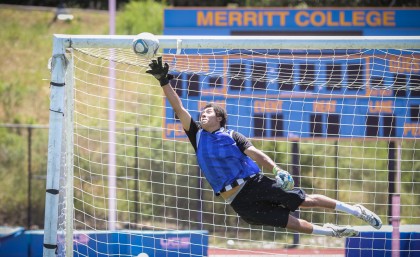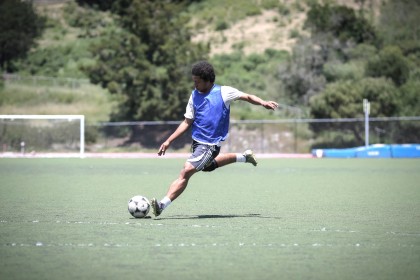 Merritt College Men's Soccer
Moving on….
Congratulations to the 2014 college commits  that have moved on to play soccer at the four-year level:
2014 College Commits
Julio Cervantes- University of Pacific
Roberto Llamas – Adams State (pictured above, top)
Michael Tieku – California State East Bay (pictured above)
2013 College Commits
Carlos Sanchez – UC Irvine
Ricardo Nava – Southwestern College
2012 College Commits
 Jonas Voiron – Holy Names University
Jason Swihart – Hawaii Pacific
Hugo Ramirez – Holy Names University
_______________________________________
Soccer 2013
Thanks to everyone for their support of Merritt College Men's Soccer for the 2013 season!
The Thunderbirds made it to the playoffs for first time in school history and won the Bay Valley Conference for first time, finishing first in the state in goals scored. Our historic season ended with a 4-2 playoff loss to powerhouse Santa Rosa on November 23. We played our playoff game missing a few key players due to injury.
The team finished overall with a 13-4-4 record, which is by far our best record ever. And with only losing five sophomores this season, our future looks very bright.
Congratulations to all who received awards in this amazing season:
Bay Valley Conference Forward of the Year:       Francisco Mendoza
Bay Valley Conference Midfielder of the Year:    Niall Irwin
Bay Valley Conference Coach of the Year:  Zach Sullivan
1st Team All-Conference
Julio Cervantes
Niall Irwin
Francisco Mendoza
Michael Tieku
Jesus Garcia
Jose Alonso
2nd Team All-Conference
Omar Rubio
Martin Garduna