Landscape Horticulture Home
Welcome to Merritt College Landscape Horticulture
(page updated Jan. 25, 2017)
SPRING 2017
An up-to-date REVISED schedule of Landscape Horticulture classes is HERE!

The revised and final Aesthetic Pruning Class Schedule is HERE
Spring 2017 Floral Design Schedule HERE
The following are some schedule revisions (revised since publication of the print schedule)
Added: LH77 Crop Production (1.5 units) Wednesdays 2- 5:20pm, class registration code: 24697
Revised: LH19 Plant Nutrition moved from Friday to Wednesdays– still 10am- 1:45pm, class registration code 20225
LH28ABCD Permaculture will be held on Thursdays (not Tuesday) in H108 (not H101), still 5- 9:50pm, class registration codes: A- 20232, B- 20235, C- 20237, D- 20391
LH34ABC Computer-Assisted Design (VectorWorks) moved from Monday day to Monday evening, 6- 9:50pm. Watch here or in online Passport for possible room change. class registration codes: A- 20239, B- 20241, C- 20243
LH76 Edible Landscaping has moved from Wednesdays to Fridays and will be taught by Anders Vidstrand (not Lawrence Lee). 10am- 3:50pm, H101, class registration code 20393
Download an up-to-date pdf of the Hort dept.'s schedule HERE. Schedule revisions* do occur after publication of the Peralta-wide print schedule. In the event of schedule changes for our department's classes, revisions will be noted here (and on the LANHT Schedule page HERE) and a revised pdf will be posted for download. Be sure to consult Passport's online searchable schedule of classes HERE to ensure you have the most current information for all four Peralta colleges.
Registration is open for all students. You can still add classes- the deadline to enroll in courses is Feb. 5, 2017 (except for late-start classes). Please note that if you have not been enrolled in classes in the last semester, you will need to apply again. Complete your application HERE. Now is also the time to clear any registration holds you may have due to outstanding fees or academic probation. You can access information on holds, academic standing, your course schedule, and more through logging into your student center with your Passport ID and password. Access Passport HERE. Remember while you're there to make any personal information updates needed- especially your contact info so that you don't miss important communications. Yes- you CAN redirect emails sent to your Peralta-issued email address to your preferred address (see how to forward pccd  student email HERE).
The Landscape Horticulture Department is located on the northwestern end of the Merritt College campus, up the road (Margie lane) from the Children's Center and across from the tennis courts. Use the northerly  loop road entrance into the campus and then take an immediate left. The gate will open automatically when you drive up to it during our regular hours. If it does not open during regularly scheduled class time, please notify us at (510) 436-2418 (office) or 436-2491 (field office).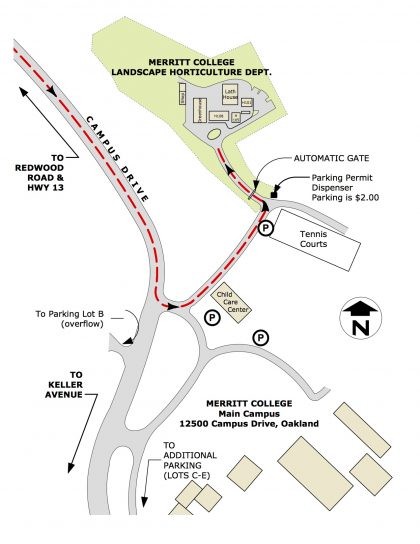 Our hours vary:
During spring and fall semesters: Monday – Thursday 8:30am until approximately 9:30 or 10pm (until last class is gone). Fridays: 8:30am- 5:30pm.
During spring and fall semesters we are also open on some Saturdays, 9am- 12:30pm. See the Aesthetic Pruning class schedule for Saturday dates.
During summer, we are usually open Monday – Thursday, 8:30am – 7pm.
Save the date… our SPRING 2017 PLANT SALE will be the weekend of May 6 & 7
---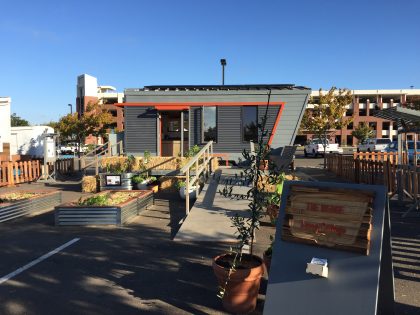 • The Horticulture department, in collaboration with Laney College Construction, won the Landscaping award at SMUD's October, 2017 Tiny House competition (and Laney's "The Wedge" won four other awards as well). See Tiny House •
---
The Merritt College Landscape Horticulture Program and its facilities are among the largest in northern California. These facilities include 5,000 square feet of computerized greenhouses, a 5,000-square-foot lath house, floral and drafting lab, library, a rapidly expanding arboretum, and the most up-to-date horticulture equipment. The program is designed to prepare students for careers in all the major horticultural disciplines–including landscape design and construction, nursery and greenhouse management, floral production and design, turf management and arboriculture (see complete list of degree and certificate programs and courses below).

The Landscape Horticulture program at offers many benefits that make us the first choice of over 5,000 students each year including: our over 45-year tradition of academic excellence most prominently manifested in our distinguished alumni and the faculty who taught them; our small classes, caring faculty, friendly admissions staff, and first-class support services; our great location–the campus is nestled in the scenic Oakland hills with a panoramic view of the San Francisco Bay and out through the Golden Gate and beyond. Prospective students can meet with a counselor or can call the Landscape Horticulture Department at  (510) 436-2418 or email mbull@peralta.edu

Career opportunities abound! Graduates are employed by city, county and regional parks departments, the California State Division of Highways, county, state and federal department of agriculture, school and college districts, botanical gardens, golf courses, pest control contractors, landscape contactors, retail and wholesale nurseries and flower shops. Many become self-employed in landscape management and contracting. Entry salaries vary considerably depending on skill level and geographic location.

For the most up-to-date complete course descriptions and degree/certificate info, follow the below links.
For more detail on department events, history, news, etc., visit www.merrittlandhort.com
Associate of Arts in Landscape Architecture
Associate of Science in Landscape Design and Construction Specialist
Associate of Science in Landscape and Parks Maintenance Specialist
Associate of Science in Nursery Management Specialist
Certificate of Achievement in Basic Landscape Horticulture
Certificate of Achievement in Intermediate Landscape Design and Construction
Certificate of Achievement in Intermediate Landscape and Parks Maintenance
Certificate of Achievement in Intermediate Nursery Management
Certificate of Achievement in Landscape Design and Construction Specialist
Certificate of Achievement in Landscape and Parks Maintenance Specialist
Certificate of Achievement in Nursery Management Specialist
Certificate of Proficiency in Permaculture Design
Fee-Based Classes: Floral Design and Aesthetic Pruning
Spring 2017 class schedules:
Previous Schedules: