Facility Rental Home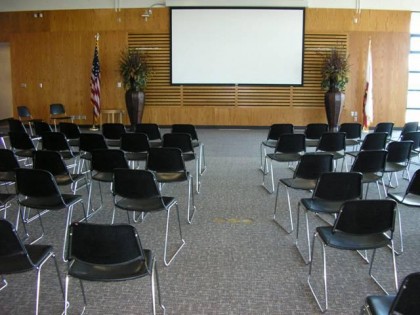 Plan your next meeting, conference or special event at Merritt College. Enjoy our beautiful setting with convenient access, parking, Internet connections, and audio-visual staff. A range of facilities, rental equipment and support services are provided at reasonable rates.

Contact Information
Ron Perez, Phone: (510) 434-3967 – Email: merfacilities@peralta.com
Newton/Seale Conference Room
Maximum Occupancy 265

This recently renovated, bright, airy room has two glass walls looking out over the Bay, a kitchenette, and a beautiful back patio with a view. The Newton/Seale Conference Room is perfect for lectures, conferences, large meetings, and receptions.

Small Conference Room
Maximum Occupancy 40

This newly renovated facility is centrally located on campus. Its natural light and roominess make it a wonderful option for seminars, workshops, small conferences and organizational meetings.

ASMC Conference Room
Maximum Occupancy 40

The ASMC conference room looks out over Merritt College's sprawling front lawn toward the Bay. Its large windows fill it with natural light, making it a bright and uplifting location for meetings, presentations, and other small group gatherings.

Classrooms

Merritt College provides a wide selection of classrooms for break out sessions, meetings, testing and other events and gatherings. Both size and design vary from high ceiling work space, to traditional classrooms and lecture rooms. Wi-Fi is available in many of our classrooms.

Stadium/Turf Field

This beautiful turf field stadium, nestled in the rolling hills, is adjacent to the East Bay Regional Park. It is an inspiring location for soccer, track, and rugby games. Merritt College also has two standard-size and one junior-size soccer field available for games and practices.