Dr. Norma Ambriz-Galaviz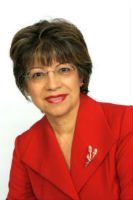 Dr. Norma Ambriz-Galaviz was appointed President of Merritt in January 2013. Prior to this appointment, she served as Vice President of Instruction for Mission College in Santa Clara and was employed for 17 years at Chabot College.
As a resident of Hayward for the past 20 years, she is familiar with the challenges of urban and rural first- generation college students. She received an Associate of Arts degree from Hartnell College, in Salinas, both a B.A. and M.S. degrees from San Diego State University and, after working over 15 years in community colleges and beginning to raise a family, she returned to school to earn a doctorate degree in organizational leadership from the University of La Verne.
Dr. Ambriz-Galaviz' professional career spans over 30 years of working with the recruitment and retention of youth to attend and stay in college. She has served as a counselor, instructor, program coordinator/director, in addition to her administrative leadership roles as an Educational Dean and Vice President of Instruction.
Dr. Ambriz-Galaviz is active in a variety of national, state and local organizations, including serving on four accreditation teams for the Accrediting Commission for Community and Junior Colleges. She is a member of the National Hispana Leadership Institute, Association of California Community College Administrators, California Community College Chief Instructional Administrators, Silicon Valley Educational Leadership Group, and the Alameda County Hispanic Chamber of Commerce.