CLASS Professional Development Opportunity
CLASS Professional Development Opportunity
for providers who work with children 15 months to 5 years of age in Alameda County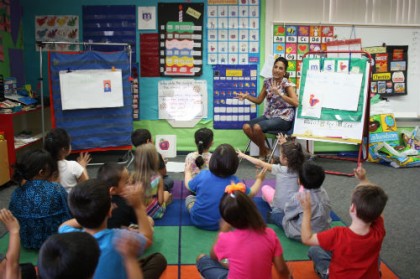 Available in Toddler and Preschool versions, the CLASS Trainings are self-paced on-line trainings aimed at improving the quality of early childhood education.
Training Components
Introduction to the CLASS Training  (web-based, 2 hours)
Looking at CLASSrooms (LAC) Training  

(web-based, 20-30 hours)

Dangers of Second Hand Smoke Training  

(web-based, 1 hour)

Participants are required to meet with a CARES Plus 

advisor twice during program year
Eligibility Participants must:
Work in a licensed or license-exempt early childhood education setting in Alameda County with children 15 months to 5 years of age
Work a minimum of 15 hours per week with children in the ECE program
Have worked 9 months in an early childhood setting by the end of the program year
Stipend
Participants will receive a $350 stipend for successfully completing all program components
Classroom Assessment Scoring System (CLASS)
WHAT IS CLASS?
The Classroom Assessment Scoring System™ (CLASS™) is an observational tool that provides a common lens and language focused on what matters—the classroom interactions that boost student learning.
Based on research from the University of Virginia's Curry School of Education and studied in thousands of classrooms nationwide, the CLASS™ tool:
• Focuses on effective teaching
• Helps teachers recognize and understand the    power of their interactions with children
• Aligns with professional development tools
• Works across age levels and subjects
Additional Information
All trainings are offered in English and Spanish. All trainings are self-paced and completed on-line. You will need access to a computer and an email address in order to participate in this free on-line program.
FOR MORE INFORMATION  CONTACT:
Berenise Herrera, Professional Development Coordinator at Merritt College
Email: bherrera@peralta.edu          Tel: (510) 434-3927