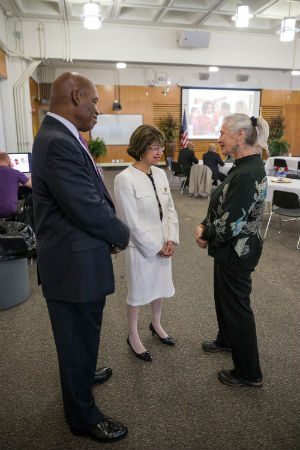 Principals and counselors from 17 area public and charter high schools participated in a roundtable breakfast on Wednesday, November 20, at Merritt College. The event was hosted by Dr. Elmer Bugg, Vice President of Instruction, and Dr. Stacy Thompson, Dean of Academic Pathways and Student Success. The purpose of the event was to discuss how Merritt College and the schools can work together to benefit students in the area of Career and Technical Education, examine opportunities for concurrent enrollment, and explore strategies to assist high school seniors in making a seamless transition into college.
The morning started with a delicious breakfast buffet followed by greetings from Merritt President Dr. Norma Ambriz-Galaviz and District Chancellor Jose Ortiz. Dr. Bugg went on to explain the purpose of the meeting, facts about Merritt, and his hope for working together with the schools in the future. He then asked the participants to form groups, led by Merritt administrators, to discuss their goals and then address all participants with their findings.
"It was an important step toward building bridges to ensure student success," said Dr. Thompson, who added that the issues discussed will be addressed in future meetings of this new high school consortium group.
Filed under: Uncategorized